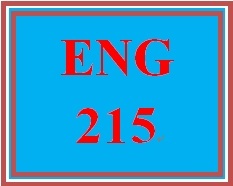 ENG 215 Week 5 Persuasive Research Paper and Presentation
https://plus.google.com/u/0/108200033792883877670/posts/dWT4sDYbQKM
 ENG 215 Week 5 Persuasive Research Paper and Presentation 
In any career you pursue, the skill of presenting yourself and your ideas will play an important role. Whether in person, across the conference room, by phone, or across continents, people need to be sold on you as much as they are on your ideas. In an academic and professional setting, an audience relies on the writer to apply sound logic in presenting an argument. The act of persuasion is the common purpose of all your writing, and all your communication in your career. 
Part 1: Argumentative Research Paper
Review your instructor feedback from your previous weeks' assignments.
Revise any portions of your paper, based on instructor feedback.
Prepare the final draft of your 1,400- to 1,750-word argumentative research paper that argues your personal position on a controversial topic you think is worthy of public debate. Ensure that you have a strong thesis statement and be organized so that your arguments are clearly presented.
Format your paper according to appropriate course level APA guidelines.
Submit your paper to the Plagiarism Checker and make any necessary revisions before submitting your final paper.
Submit your final paper to the Assignment Files tab.
Part 2: Argumentative Presentation
Create a 5- to 7-slide presentation using Microsoft® PowerPoint® to accompany your paper that highlights only the main points of your paper.
Format your references according to appropriate course level APA guidelines.
Include citations in the speaker notes or in a separate reference list.
Deliver your presentation and submit your presentation file or link.   
For Local Campus, deliver a 10- to 12-minute oral presentation accompanied by your slides or multimedia.  
For Online Campus, provide detailed speaker notes in the presentation file or in a separate document.  
Submit your presentation to the Assignment Files tab.    
You'll get 1 file (34.5KB)