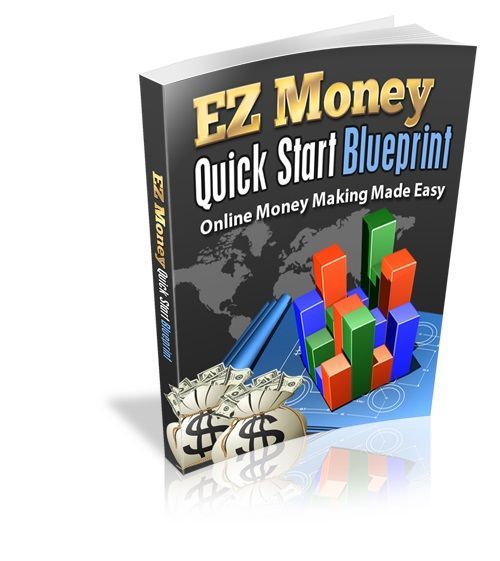 EZ Money Quickstart Blueprint
"Would You Like To Instantly Know All There is to Know About Easy Money Quick Start Blue Print?"
You Can Now!
Launching an Online Business Has Turned Many into Millionaires Overnight!
The Internet Went From an Idea to More Than Anyone Could Have Ever Imagined, and Millions Have Taken Their Own Business Plans Onto the Web and Have Made Fortunes Beyond What They Thought Possible!
Learn How You Can Now Make Your Own Internet Fortune!
In less than 20 years, the Internet has grown from only 1% of the world's population having Internet access to now over 40% of people across the globe. This astronomical growth speaks for itself, conveying the potential that exists to make a fortune with your own online business. With the low overhead and inexpensive startup costs, anybody can now take their business dreams to a virtual shopping mall and jump into the action as the owner of their own online enterprise. The risks are almost nil, while the potential for success and profitability is extremely high. Whether one wants to sell products or provide services, they have the opportunity to launch their own business and have it up and running within mere hours.
Successfully launching an online business that takes off and results in profitability depends upon right knowledge and good decisions. Those who plan and implement their Web business correctly will quickly find themselves enjoying the cash flow from a high market share within their specific product or service niche. There is a lot of spending on the Web and a lot of cash to spread around. If you have ever wanted to start your own business, there is no better time than now.
With EZ Money Quick Start Blueprint, You Will Be Taught How to Launch Your Own Successful Online Business!
EZ Money Quick Start Blueprint will provide you with the following information to guide you into online business success:
The basics of making easy money on the Internet
* Determining business type: products versus services
*Selecting a domain name and establishing your Web presence
*Attracting and retaining quality online customers
*Affiliate programs, auctions and upselling
*Client membership programs and other sales tactics
*Advertising and email campaigns
*Forums, blogs, social media, and other free marketing venues
*And much, much more ...
What You Get To Resell This:
*eBook, Graphics, Minisite, Squeeze Page, List of Free Marketing Tools (PDF) and Master Resell Rights License text.
Your License:
Yes can be sold
Yes can sell resale rights
Yes can sell master resale rights
You can add the product into your product bundle or package and sell for a higher price
Yes can be added to a paid membership site
You CAN give the product away for FREE
You CANNOT offer the product as a bonus to another product you are selling. However, you can offer other bonuses to this product when selling
You CANNOT sell the product on auction sites such as
eBay.com
You CANNOT use nor sell this product in a dime sale event, under any circumstances at all. An event that constitutes a dime sale is one whereby the product starts selling at a very low price and increases every dime after a certain time frame or with every purchase using the dime sale script
By MRR license, if you buy a product with master resell rights and then sell it, your customer may resell the product for profit as you did (Wikipedia). When a product comes with resell rights it usually permits unrestricted sale of the product with permission to keep 100% of the profit. The product sold under normal resell rights should only include the PUO (Personal Use Only) right, in other words, the resell rights cannot be transferred when this type of product is sold on. (Wikipedia)
Note:
This product comes with NO warranty or guarantee of any kind.
The author and distributor hereby disclaim all liability for the use of this product. You accept all responsibility by using/selling it.
P.S. You've got nothing to lose in this investment. You will only miss 100% of the shots you don't take. Don't make the same mistake of those who
close this page and miss out on a tremendous opportunity!
You'll get a 3.1MB .ZIP file.
More products from Smart Life Skills