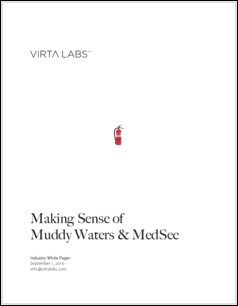 White Paper: Making Sense of Muddy Waters & MedSec
White paper on Muddy Waters, MedSec, and St. Jude Medical, published September 1, 2016; revised September 5, 2016.  PDF, 22 pages.
[[[ If you arrived at this page directly, please go back and read the agreement at  
http://go.virtalabs.com/muddy-waters-white-paper
.  You must agree to these terms before downloading the white paper. ]]]
Analyzes the claims in the Muddy Waters report of August 26, 2016.  Also touches on materials released since then.  Provides expert context and suggests appropriate questions to ask about medical device security.
Suitable for technical and nontechnical readers.
(Updated September 5, 2016 with revised introduction.)
You'll get 1 file (180.0KB)