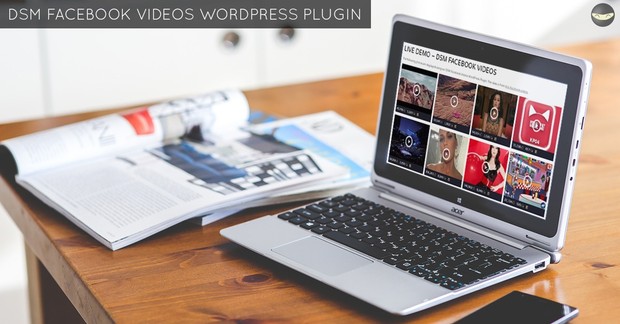 DSM Facebook Videos WordPress Plugin – PRO Version!
Hello WordPress User,
You or your client is using Videos on Facebook? Don't miss the opportunity to display it on your WordPress site! Our WordPress plugin can help you with that.
Through our WordPress plugin, we can display your videos from a Facebook page to your website. Automatically. In real-time. Your site will have an 'instant' videos for your customers or audience.
Once you create, edit or delete a video on Facebook, your website will be updated as well. Facebook videos will be displayed as grid items with thumbnails. How cool is that?
On more thing, did you know that your can control the look & feel of your Facebook videos on your website? You surely can! Our WordPress plugin has this settings dashboard where you can control colors like background colors, button color, font color and more!
On the next section, let's take a closer look at the feature details of our DSM Facebook Videos WordPress Plugin – PRO Version!
Click the following link to see feature details, how to use and learn more.
https://www.codeofaninja.com/2016/09/show-facebook-videos-wordpress-site.html
Kind Regards,
Mike Dalisay
Software Developer
Founder and Author,
codeofaninja.com
You'll get 1 file (599.2KB)