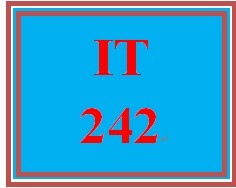 IT 242 Week 9 Individual: Security Memo
Entire Course Download Link
https://uopcourses.com/category/it-242/
 IT 242 Week 9 Individual: Security Memo 
Based on your Learning Team collaborative discussion, prepare a 2- to 3-page security memo and a 1-page diagram with 1/2- to 1-page narrative. Include:   
Analysis of the situation that demonstrates fundamental understanding of TCP/IP protocol(s) information, insights into throughput reduction, and analysis of the issue.  
Solution recommendation that includes cable and device recommendation and installation diagram.  
Insights on any potential ethical issues and security threats.  
Each student should submit the assignment individually using his/her own ideas and research.
Submit your assignment using the Assignment Files tab.
You'll get 1 file (99.0KB)