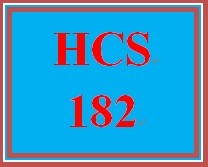 HCS 182 Week 2 Sources of Health Care Revenue
HCS 182 Entire Course Link
https://uopcourses.com/category/hcs-182/
HCS 182 Week 2 Sources of Health Care Revenue
Health care entities rely on reimbursement from various sources to generate revenue for the organization. This is typically achieved through the billing process.
Write a 525- to 700-word paper in which you:
Identify sources of health care revenue.
Identify which sources are government sponsored.
Explain how inappropriate billing can lead to fraud.
Explain the consequences of fraudulent activity.
Explain how to report Medicare and Medicaid fraud.
Format your assignment according to APA guidelines.
Click the Assignment Files tab to submit your assignment. 
You'll get 1 file (17.3KB)
More products from UopTutorials