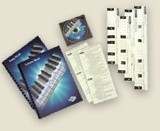 The Professional Chord System (Downloadable Version)
The Professional Chord System is the only method that quickly and easily teaches professional keyboard technique to students of any level of ability. Easy enough for a beginner yet exciting and rewarding for an advanced player.
Learn to play quickly, not by simplifying the music, but by simplifying the method
Play songs, the way you hear them played on radio and TV right from the start!
The difficulties that make learning to play the piano have been eliminated.
Play beautifully, like the professionals, without having to read music! Learn to play a new song with little or no practice.
The System
The Professional Chord System is not a simplified "Magic Piano" or "Learn Overnight" method. It is a proven, guaranteed way to learn to play beautifully, using the same chords and rhythms professionals use.
The Professional Chord System was developed after thousands of hours of testing and refinement in private and group instruction.
The System is a complete self-instructional Video-based course. Watch the lessons in your own home, at your own pace and convenience. Review if you like.
Every one in your family can learn the Professional Chord System for one low price!
Saves thousands of dollars and years of practice when compared with traditional lessons.
The Professional Chord System is a complete course, nothing else to buy! With the complete download, you can begin right away, however, for your convenience and additional benefit, we will also include several additional items (shipped to you directly upon purchase of download).
The Complete System Includes:
◾72 Lessons (video download)
◾84 page Lesson Book with ChordFinder Index
◾Song Book
◾Listening CD
◾Keyboard Pattern Charts
◾ChordFinder Quick Reference Guides
◾KeyFinder Charts For Beginning Students
◾Storage Case
◾Unlimited toll-free telephone/email/text support (
[email protected]
or
Pianostar.com
or 1 800-272-5884)
(These additional items will be shipped to you directly, please include shipping address with each downloaded order from the contact page) 
Playing By Chord
The Professional Chord System teaches easy to learn chord patterns and rhythm patterns that will have you playing your first song beautifully in just hours and you'll be playing it with professional sound.
Play beautiful chords with both hands like the professionals, not the simple 3-note chords taught in other chord methods.
Rather than learning dozens and dozens of individual chords, the Professional Chord System teaches a couple of easy-to-remember chord patterns and a few simple rules that allow you too play virtually any chord you will likely see in popular music.
With repetition, the chord patterns become automatic, and playing becomes a breeze!
Easily play even the most complicated chords with beautiful professional sound.
Play any chord in any key without having to worry about key signatures, sharps or flats.
Using the right fingers, a problem in traditional piano lessons, is easy with the Professional Chord System. The fingering is part of the chord pattern.
More Advantages
Instead of taking years to learn how read music, the Professional Chord System teaches you how the keyboard actually works.
The Professional Chord System gives you the foundation that will enable you to write your own songs.
The Professional Chord System will help you become creative instead of being tied to the notes like traditional methods.
Improvise at the keyboard. Play songs in a variety of ways, the way you want!
Easily move a song higher or lower on the keyboard to make it easier to play or sing.
Play popular songs with even better sound than what is written on the music.
Easily memorize even complicated songs instead of having to depend on the music.
Piano teachers can use the Professional Chord System to add a new dimension of creativity and enjoyment to their students' playing.
Play the songs you want to play from standard music books you can buy at most music stores.
With the Professional Chord System you will be able to play the kind and style of music you like, Pop, Country, Folk, Rock, Broadway, Gospel, Jazz, Blues, etc.
The three principles that make the Professional Chord System sound so good and yet so easy to learn are:
Eliminate the difficulties of note reading.
Learn a system of professional chord and rhythm patterns.
Add the melody after the patterns are mastered.
The Professional Chord System is guaranteed to work, the only guaranteed piano lessons in the world.
You'll get 1 file (1.9GB)