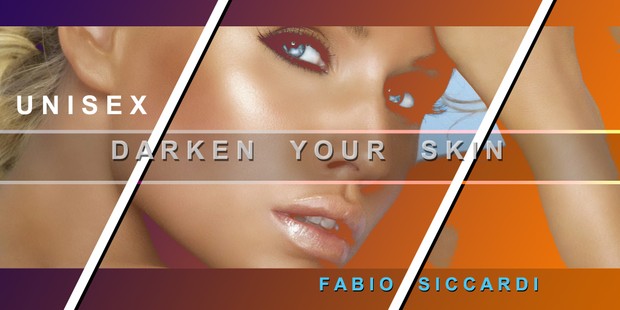 DARKEN YOUR SKIN - Get Georgeous Tan
Greetings Ladies and Gentlemen
This is new subliminal program we made that is designed to darken your skin naturally. This program is designed to replicate the effects of sauna/sun bathing without the harmful uv rays. This program has been deliberately made less powerful to stop your body producing to much of melanin or cause hormone imbalance. So if you are listening to another program similar to this, please stop doing that. You either listen to this or listen to that.Unlike other programs, the instructions for this program is a bit different, so please read carefully.
INSTRUCTIONS:
Listen to this program for just 1 hour for the first week. For some people this is enough and they will notice the results in days!If you are not noticing any results in the first week, then increase it to 2 hours per day from the second week and by the end of the second week if you don't see any results, then increase it to 4 hours per day from the third week and when you see the results, continue listening till you get satisfactory results. Do not listen to the program after that. In few months, the results will fade, but when you have taken a break after the first stint, you can listen to the program for 4 hours a day and STOP once you get the results.
Listening to the track using headphones/earplugs brings best results.You can listen to other music while listening to this track, and you can carry on other activities such as working, studying or playing or sleeping or working out etc.We can also suggest you to set this video to a comfortable volume and open another tab to listen to any positive and uplifting music you want.
Features


3D Affirmations This feature allows your body and mind to make faster changes.


Ultrasonic: Continue Listening to this program even when you are not in a position to use Headphones/earphones. (Please remember to use the normal version for at least 4 hours)


More than four times the amount of affirmations used in the YouTube versions


NOTICE:
The file you are about to download is in a zipped format because it contains multiple files. If you are using a PC to download please make sure you have a program like WinRar and if you are using a mobile phone, please search for WinRar or WinZip in the App Store or Google play if you have not installed yet. They are available for free.
WARNING:
Do not pirate this program anyway, it contains very strong anti piracy affirmations which will make this program useless and reverse the effects.
We reserve our rights to keep the affirmations we used to build this program as a trade secret.
You'll get 1 file (257.4MB)
More products from MindPro Lab