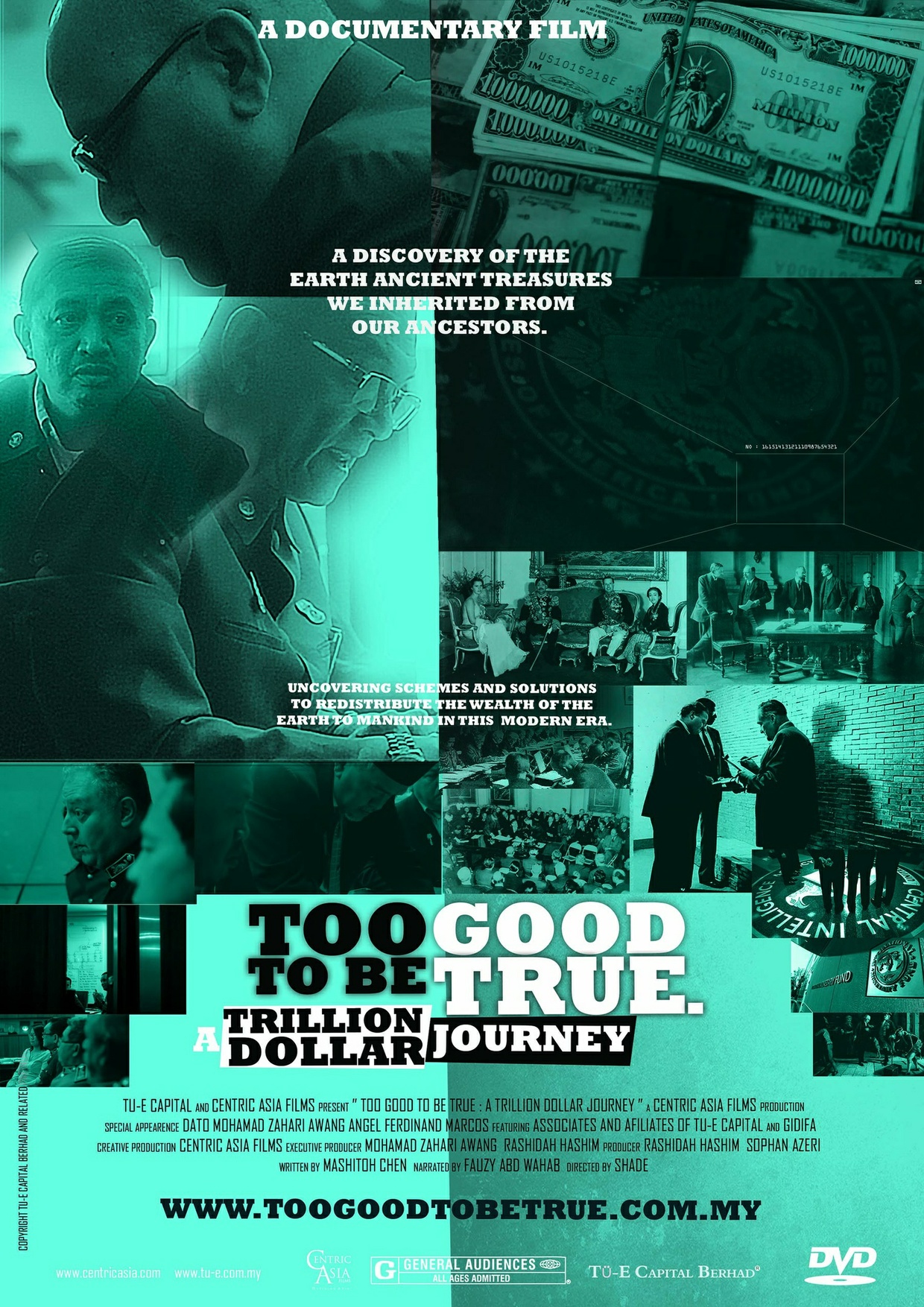 Heritage Assets : A Trillion Dollar Journey, Too Good To Be True (documentary)
(Film Language: Malay/English,  Duration : 1 hour 10 minutes)
The subject of Heritage Assets, Historical Bonds and Gold Assets used to back up global historical bonds remains cloaked in secrecy despite voices and claims that they have been or will be redeemed. New money derived from  redemption of those bonds claimed to be backed up by the heritage assets would be used to finance global activities including humanitarian projects, eliminate global debt, launch of shadow government to take over the collapsing system of the world today, etc. This video explains the ideals of such effort  of creating an alternative system to replace the current systems of today.  How far can they succeed or are they merely propagating the subject for their own business benefit? What are the hetitage assets consist of? What triggers such claims on heritage assets and historical bonds? Are heritage assets true ? 
TU-E CAPITAL BERHAD ( Malaysian based collateral provider and funding arranger) in partnership with 'GIDIFA of the United Nations' (BNM Police Report  - "GIDIFA agency does NOT exist" ) announced their 'success' of LIQUIDATING global HERITAGE ASSETS by way of REDEMPTION of global HISTORICAL BONDS up to a value of USD 65 QUADRILLION in 'virtual credit' and USD13 QUADRILLION in cash. Are these REAL MONEY or simply a propaganda of their 'gigantic financial capability' in 'funding' millions, billions and trillion dollar of projects WORLDWIDE? Around April 2017,  the Bank Negara Malaysia ("BNM") or the Central Bank of Malaysia on its website issued a SCAM ALERT notice against Tu-E Capital Berhad which claims of having in their accounts 4 Trillion Euro derived from liquidation of global Historical Bonds. Is Redemption truly happening now?  Can the bonds be monetized into currencies as claimed by them? 
Attempts to manipulate the Historical Assets may turn badly on the player if he  himself is not "TRUE". For educational purposes this film should be watched together with the TooGoodToBeTrue, REDEMPTION series available on Youtube 'Heritage Assets, Too Good To Be True?' (link: 
https://www.youtube.com/channel/UCEdZJxXEEc1WDuceUkENpvw/featured?view_as=subscriber)
Copyright : Centric Asia Films & related partners. 2017. All Rights Reserved.
You'll get a 1.4GB .MP4 file.