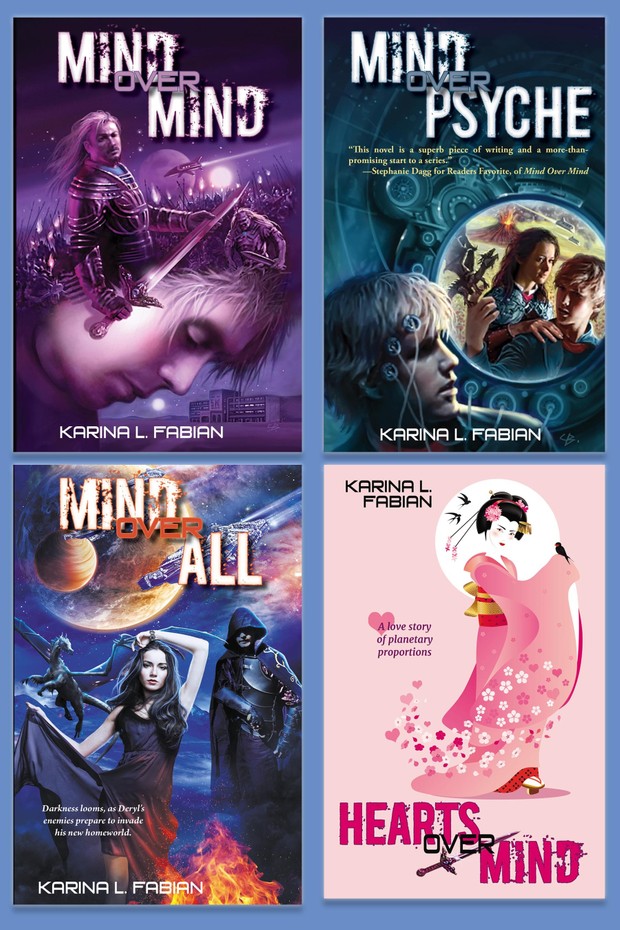 Mind Over 3-in-1 Bundle with Bonus
Over 1000 print pages in one bundle! All three Mind Over books, plus a bonus.

Mind Over Mind:
coverDeryl Stephen's uncontrollable telepathic abilities have landed him in a mental health institution, where no one believes in his powers.

But when Joshua Lawson, a student of neuro linguistic programming, takes part in a summer internship, he takes the unique step of accepting Deryl's reality and teaches him to work with it. As Deryl learns control, he finds his next challenge is to face the aliens who have been contacting him psychically for years—aliens who would use him to further their cause in an interplanetary war.

Mind Over Psyche:
Deryl isn't crazy; he's psychic.

Desperate to escape the insane asylum, Deryl teleports to Kanaan, a world of telepaths who regard him as an oracle. But freedom comes at a price. The Kanaan expect their oracle to teach them to use their powers to wage war. Meanwhile, he's falling in love, but to be with her means to share his psyche, which could drive her insane. Most dangerous of all, he hasn't escaped the Call of the Master, enemy of the Kanaan, whose telepathic manipulations were why Deryl was committed in the first place.

Now, the Master will forge Deryl's powers into a weapon to kill all he loves or destroy his mind trying.

Mind Over All:
At long last, Deryl has it all.

He's mastered his psychic abilities, escaped the asylum on Earth where he was being studied, and thwarted the alien Master who would have forged him into a weapon. He has gained a new home among the psychics of Kanaan and, with the coming birth of his son, a family as well.

But darkness still looms, as the enemy prepares to invade Deryl's new homeworld. With planets set to collide, Deryl will have to accept his role as savior of both worlds, and push his mind's powers to the limit in order to save those he loves.

Hearts Over Mind:
A bonus novelette all about love!

Both epub and mobi files are included in the package. Please don't share.
You'll get 1 file (7.8MB)
More products from Dragon Moon Press