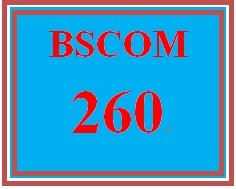 BSCOM 260 Week 5 Final Project Training Instructions
BSCOM 260 Entire Course Link 
https://uopcourses.com/category/bscom-260/
BSCOM 260 Week 5 Final Project Training Instructions
Complete the following as a teamOn the page following the cover page for the assignment do the following
 (note this page does 
not 
count toward the required 3-5 MS Word or 8-10 PP pages):


As a team, write one objective for your training. The objective should be written as a complete sentence and begin with an action verb, such as in the following example:





Apply the format painter to select document headings.





Groups may have more than one objective. If this is the case, write out the additional objective or objectives.




As a team, indicate the specific intended audience 


On the subsequent assignment pages write in structures for the complete training
 on your selected topic in one of the following formats:


A Microsoft® Word document consisting of 3 to 5 pages


An 8- to 10-slide Microsoft® PowerPoint® presentation


Ensure final submissions are edited for grammar, puncutation, and mechanics.  Edit for cohesive voice and style.  It is highly recommended to test the instructions to ensure they are functional for the proposed audience.
You'll get 1 file (969.7KB)