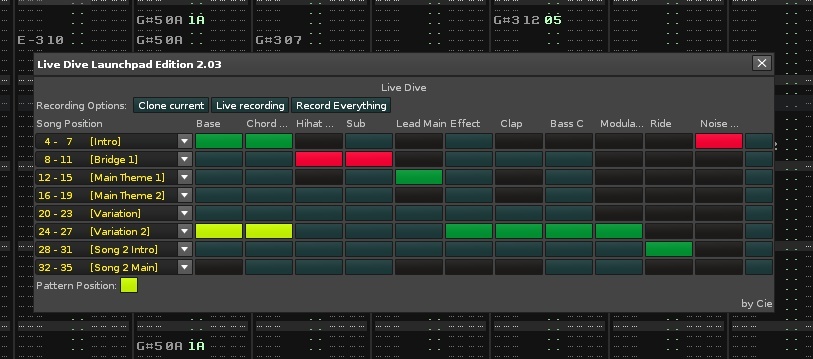 Live Dive Launchpad Edition for Renoise
With Live Dive for Renoise you can mix the tracks of different patterns of a song. Each track is represented as a clip (rectangle). If you click on a clip, it will be played or stopped dependent of the current state with the next start of the pattern. The clip on the most right side affects all clips of a pattern. This is quite the basic idea like in Ableton Live.
It is also possible to record all clip actions and build up a new song in an fast and easy way. Everytime the currently played pattern is going to be changed, this means the user has hit a clip and the clip is flashing, the pattern is cloned and appended to the end of the song. Another option records every played pattern, regardless if there were clip actions or not. Finally you can clone the currently played pattern and append it to the end of the song.
To run this plugin, it is required you have


one or more Novation Launchpad, Launchpad S or Launchpad Mini
(the plugin supports up to four Launchpads/Launchpads S/Launchpads Mini)


Renoise (free or full version)


You'll get a 888.3KB .ZIP file.
More products from stepsequencer.net