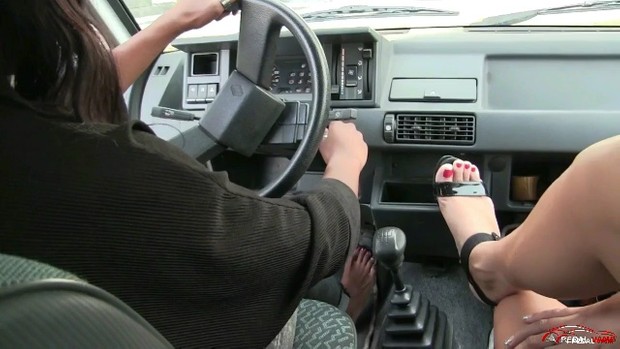 225 : Miss Iris & Miss Amelie - Drive Lesson #1
Miss Iris decides to give to Miss Amelie a special driving lesson, since Miss Amelie doesn't know how to drive a car!

Miss Iris is wearing a black and white shirt and black high heels, while Miss Amelie is wearing black top, jeans and brown heels.

Miss Iris explains to Miss Amelie how to start the car and what does she has to do to keep the car running, including how to use the choke!

Then she moves to the passenger seat and see how Miss Amelie can handle the old Renault 5 of Pedal Vamp!

Everything seems so easy for Miss Amelie, it's a piece of cake to start this car, right? Well... No.
 
In fact as soon as she tries the car refuses to start and starts giving no sign of life as always! Miss Amelie pumps the gas hard, but with no luck!

So Miss Iris decides to go back in the driver seat to make this car start again!

When she succeded to do that, she shuts it down to make Miss Amelie understand how to really start the car.

That was a really bad idea... Because Miss Amelie can't restart the car!  It doesn't want to start at all!

Maybe the car is mad at Miss Amelie...

Will the two misses start the car and do the first driving lesson?
You'll get 1 file (828.4MB)
More products from Pedal Vamp