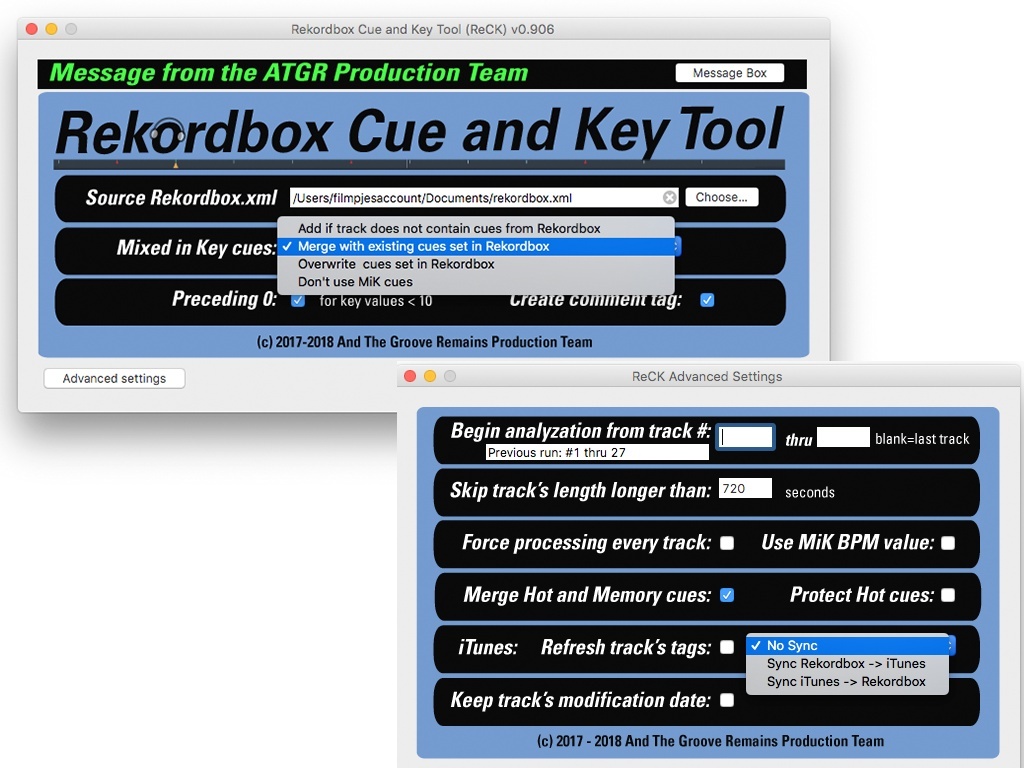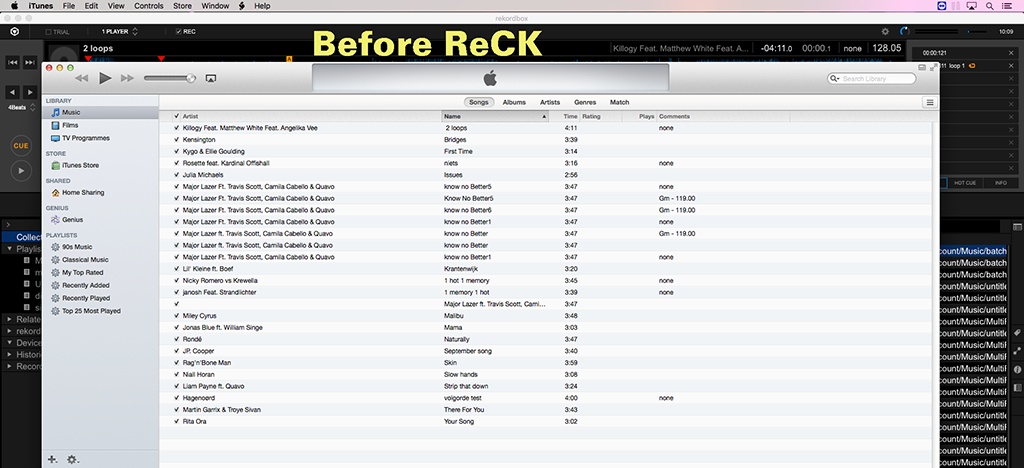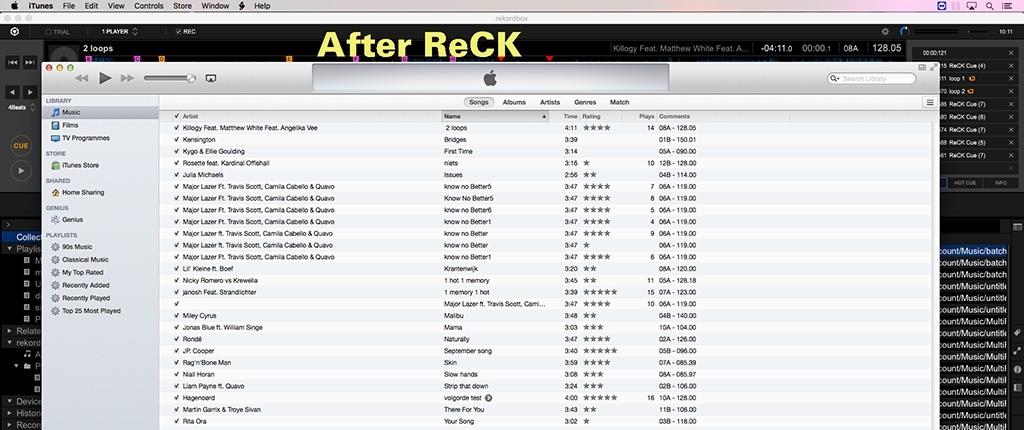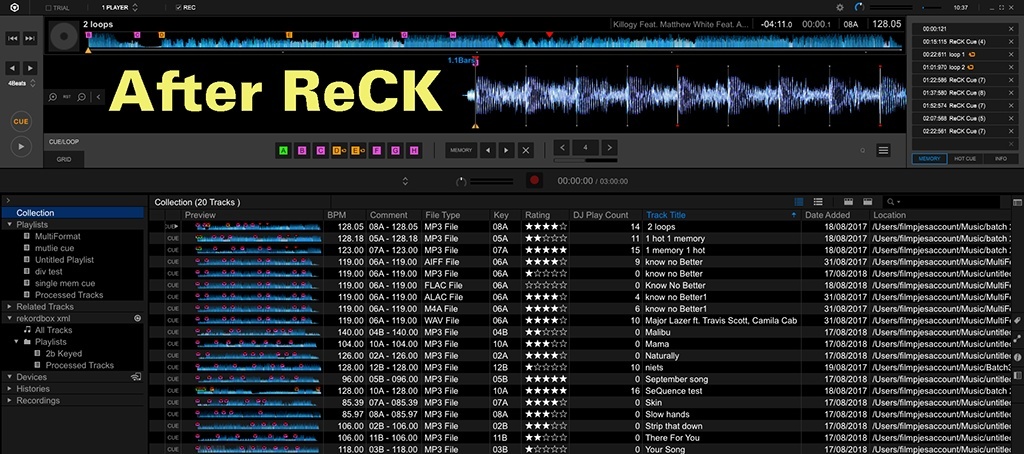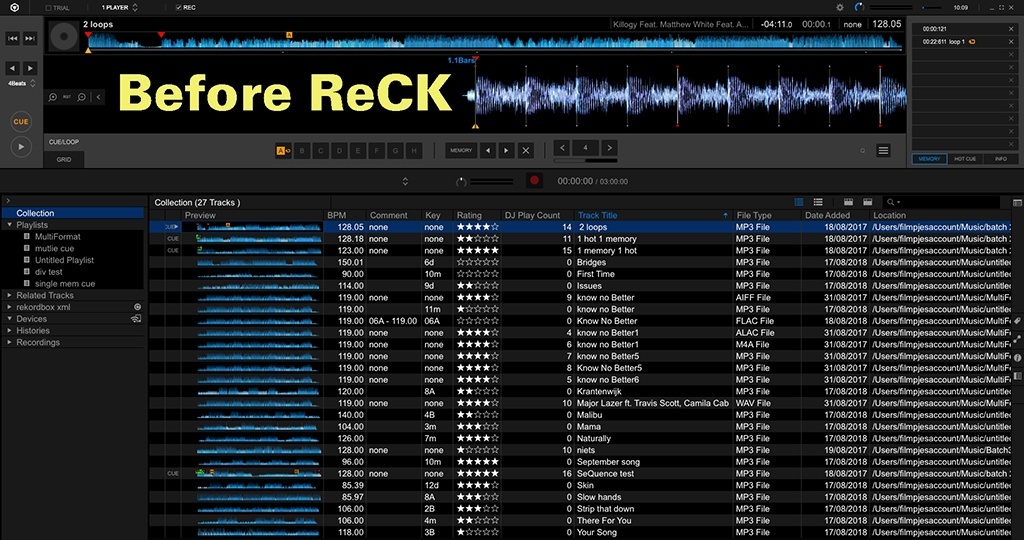 Rekordbox Cue and Key Tool
current version : 1.02 dated January 26th 2018
The ultimate bridge between Rekordbox, Mixed in Key and iTunes


Convert Mixed in Key cues to Rekordbox memory and optionally hot cues


Mixed in Key cues can be merged with existing cues, replace existing cues or not set at all if the track already contains cues.


ReCK is the only way to deliver Camelot keys to wav tracks in Rekordbox


Collects all tracks without a valid Camelot key to a dedicated playlist in Rekordbox for easy batch delivery to Mixed In Key.


Adds a zero in front of Camelot keys with a value lower then 10


Generate sortable comment tags (key-bpm) 


Merge hot- and memory cues so they are set identical


Remove Mixed in Key cues without removing user set cues/loops 


Sync non standard tags such as star ratings and play count between Rekordbox and iTunes or vice versa


Gives iTunes the missing option to refresh tags of selected tracks.


Hotcues can be protected so changes will only be applied to memory cues


Writing key, bpm and comment tag to the track's file tags can be disabled without losing any of the sync and conversion features.


The complete video tutorial is at:
https://youtu.be/xNqKSIKXauI
you can download the manual at:
https://www.dropbox.com/s/n3p4w4xe6cfa9yq/Rekordbox%20Cue%20and%20Key%20Tool%20Manual.pdf?dl=1
ReCK does not mess with your playlists/folders not in iTunes and not in Rekordbox. It only changes the key, comment and cues as specified by your settings. 
Known limitations
ReCK only works on UTF8 character sets. Extended characters sets in UTF16 are not supported.
IMPORTANT
:


MacOS only (no refund to windows users who accidently buy this app!)


for Mixed in key integration the minimum Mixed in Key requirement is 8.1.2 


fully compatible with MacOS from version 10.9 upto to MacOS 10.13 (High Sierra)


fully compatible with Rekordbox 5.1.1


You'll get a 6.2MB .ZIP file.
More products from And The Groove Remains Production Team