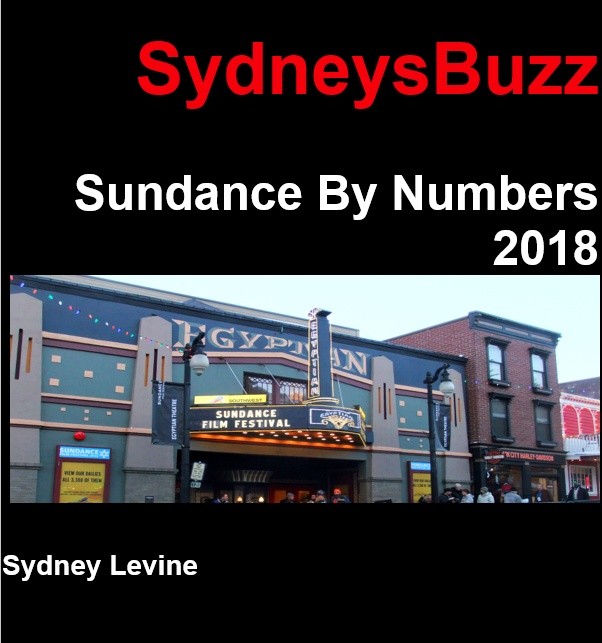 Sundance By Numbers 2018
Whether you are attending Sundance or not, whether you are a film professional or not, if you follow films, the Sundance By Numbers Report is the only comprehensive look at the approximately 120 films at the festival, with director, writers and producers, cast, international sales agents, U.S. and other distributors, synopsis and contact names.

All titles in the report are linked to IMDb for further research.

What are the chances of getting into film festivals if you are a near unknown filmmaker? Sundance itself is proud to point out that of the 121 feature-length films selected, 53 are by first time filmmakers including 30 in competition. But this year, what I see looking at the lineup of Sundance, makes me question how the selections are made.  To me it looks like programmers brought in films from well-known suppliers.  Nearly every film is represented by an established international sales agent or by one of the Hollywood talent agencies acting as the producer representative. 81 out of 118 have international sales agents. That means 37 have no sales agent.  Of those 37, 11 are repped by WME; five are repped by CAA; five by UTA, three by Paradigm and three by ICM.  That leaves eight films with no ISA and only the producers to rep them.

Eight of the 16 films in U.S. Dramatic Competition are repped by WME, and in the U.S. Doc section of 16 films, five are represented by Cinetic and eight by Submarine making it look like they are contractors for Sundance Film Festival. 

Untried filmmakers who have not connected to established players are not in great abundance.  This makes the hunt for discoveries less important than the hunt for really good films which we are all hoping to find. Even in the World Dramatic Section which used to be my favorite section for finding as yet undiscovered gems (like last year's Polish film The Lure) only one film has no international sales agent or no Hollywood agency representing it.  That is Butterflies from Turkey, a still relatively unexplored territory in world cinema today.

Only 20 films have U.S. distribution so the acquisitions executives for the more than 100 U.S. distributors will be very busy watching films.  Netflix has four of those films already. Amazon has two as does Sony Pictures Classics, A24, Bleecker Street and HBO.

The films were selected from 13,468 submissions including 3,901 feature-length films and 8,740 short films. Of the feature film submissions, 1,799 were from the U.S. and 2,102 were international. One hundred and eight feature films at the Festival will be world premieres. In 2017, the Festival drew 71,638 attendees, generated $151.5 million in economic activity for the state of Utah and supported 2,778 local jobs.

This report tracks which agents are repping the films and which international sales agents are selling the films and and which have the most.  Other trends as well, for example how many films are by women, Asians, African-diasporites, or are about such subjects as Middle Eastern, Jewish, GLBT, etc.
You'll get 1 file (50.6KB)
More products from SydneysBuzz.com, inc.