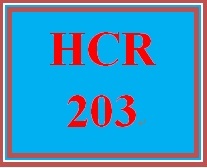 HCR 203 Week 1 Build Your Resume for Success
Entire Course Link
https://zh.scribd.com/document/340327850/Uop-Tutorial
 HCR 203 Week 1 Build Your Resume for Success 
As you work through the completion of your coursework, it is important that you have a quality resume and cover letter to submit to potential employers. This assignment along with the cover letter assignment in Week Two are designed to give you the tools and the confidence to build and submit quality resumes and cover letters.
Navigate to the Phoenix Career Guidance™ Dashboard.
In the Build your Resume section, click Go to the Resume Builder at the bottom of the page.
Complete your resume by following the prompts provided in the builder.
After you have completed your resume, click "Publish" and then select "Export (PDF or DOC)" to save a copy to your computer.
Click the Assignment Files tab to submit your assignment.
You'll get a 93.5KB .DOC file.