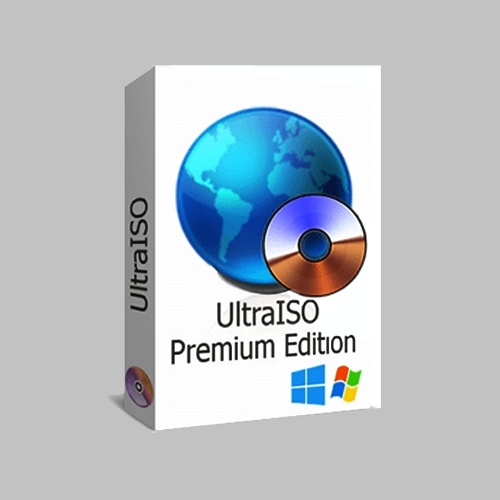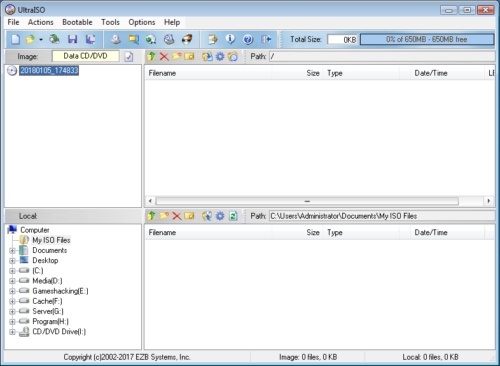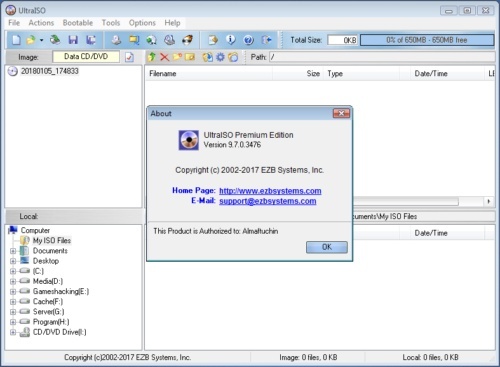 Original License UltraISO 9 Premium Edition - Lifetime Activated Never Expired
UltraISO is an application for Microsoft Windows for creating, modifying and converting ISO image files used for optical disc authoring, currently being produced by EZB Systems.
Initially UltraISO was shareware however since 2006 it has turned 'Premium' and become chargeable. The 'Free Trial' version is limited to ISO images of 300 MB or less.
Main Features


Duplicate CDs and DVDs to an ISO image.


Create ISO images from files located on a CD/DVD-ROM or hard disk.


Edit existing ISO files by adding, deleting, and creating files and folders.


Create compressed zisofs (.ISZ) images


Create bootable CD, DVD and floppy images.


Create a bootable USB flash or hard drive from a bootable disc image (works only with DOS, Windows NT and syslinux boot sectors). For this, the user can open an ISO image with UltraISO and choose 'Bootable' and 'Write disk image' to burn onto a bootable USB disk.


Converts: .BIN, .IMG, .CIF, .NRG, .BWI, .DAA, .DMG, .HFS and other formats to the standard ISO image.


Supports all ISO 9660 levels and the Joliet extension.


Optimization of ISO image file structures to save disc space.


Capable of mounting only ISOs to a virtual drive.


Create checksums for data verification of ISOs.


Multiple language support.


Built in digital audio player.


Supports UDF disc format and allows creation of bootable UDF disks.


Supports command line parameters


Premium Features:


Backup CD's and DVD's to your hard disk as ISO images


Make ISO image from files and folders on hard disk


Extract files and folders from an ISO


Add files and folders to an ISO image (editing)


Emulate ISO images as virtual CD/DVD drive, and run programs from there directly 


Converting up to 30 CD/DVD image formats (such as NRG, MDS, CCD, etc) to ISO, NRG, MDS and CCD format


Burn ISO images to CD/DVD or USB drive


Burn files and folders to CD/DVD or USB drive on-the-fly


Make bootable CD/DVDs and bootable flash drives


ISZ format
UltraISO uses a proprietary format known as ISZ. The format is advertised as "ISO Zipped", even though it is not a simple zip archive. The format uses zlib or bzip2 to compress the data, and can support AES encryption of various strengths. The file format specification is available publicly on EZB Systems's website. The format is now supported by third party applications such as Daemon Tools, Alcohol 120% and CDemu.
PaymentGuarantee


I guarantee you if you lose the license code then I will send it back for free the same license code. With a note you bought a license at my store.


Shipping


Free Shiping to Worldwide


All Country Available


Fast Delivery Shipping (1 Minutes to your Email)


Important


Your License will sending directly via email and ebay message after make a payment


Your License is ACTIVE FOREVER (No expiration date)


Your name will appear on Ultra Iso Premium Edition after used Original License from us which proves that this license is original


F.A.Q


Q: License is work for all version of Ultra Iso?


A: No, License only working for version 9.7 Premium Edition of Ultra Iso




Q: The License can use for multi computer?


A: No, License only work for one computer




Q: The license is Legal?


A: Yes, we selling original license and has never been used on other computer




Q: The license have an expiration date?


A: No, The license is LIFETIME ACTIVE without expiration date and can be used anytime for your computer


Feel free to send us a message if you have any questions
You'll get a 4.3MB .ZIP file.
More products from Almaftuchin Market