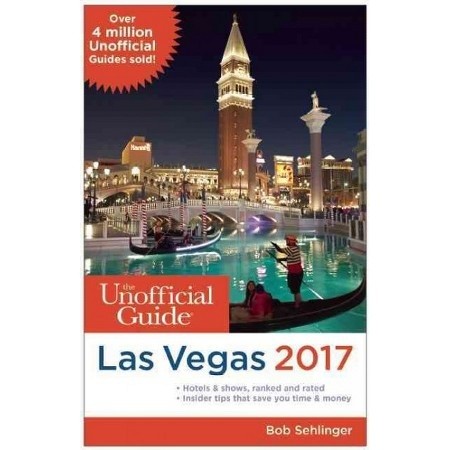 The Unofficial Guide to Las Vegas 2017
With insightful writing, up-to-date reviews of major attractions, and a lot of "local" knowledge, The Unofficial Guide to Las Vegas has it all. Compiled and written by a team of experienced researchers whose work has been cited by such diverse sources as USA Today and Operations Research Forum, The Unofficial Guide to Las Vegas digs deeper and offers more than can any single author.

This is the only guide that explains how Las Vegas works and how to use that knowledge to make every minute and every dollar of your time there count. With advice that is direct, prescriptive, and detailed, it takes out the guesswork. Eclipsing the usual list of choices, it unambiguously rates and ranks everything from hotels, restaurants, and attractions to rental car companies. With The Unofficial Guide to Las Vegas, you know what's available in every category, from the best to the worst.

The reader will also find the sections about the history of the town and the chapters on gambling fascinating. In truth, The Unofficial Guide to Las Vegas emphasizes how to have fun and understand the crazy environment that is today's Vegas. It's a keeper.

What's New in the Unofficial Guide to Las Vegas 2017?


– Top buffets re-imagined and upgraded
– Complete coverage of new casinos and other developments on the north end of the Strip including the Lucky Dragon Hotel & Casino Las Vegas' first casino resort designed to create an authentic Asian cultural and gaming experience
– New attractions coverage including Las Vegas Motor Speedway and Rick Harrison's Pawn Plaza, the new dining and and entertainment district in downtown Las Vegas.
– Reviews of all new Las Vegas shows
– New Downtown Las Vegas and Las Vegas Strip restaurants reviewed
– How to experience the "old Las Vegas"
– Coverage of new craft breweries and beer gardens
– Reviews of all the new clubs and nightspot
-The latest about Resorts World, a Chinese-themed resort on the Las Vegas Strip scheduled for mid-2018 

This newest edition arrived the day it was released. I have bought earlier editions of this book and one of the author's books on Disney World. This book provides time-saving, frustration-reducing, and money-saving information I have never seen else where. I refuse to go to Las Vegas or Disney World without the appropriate Unofficial Guide.
You'll get 1 file (7.4MB)
More products from digitalem