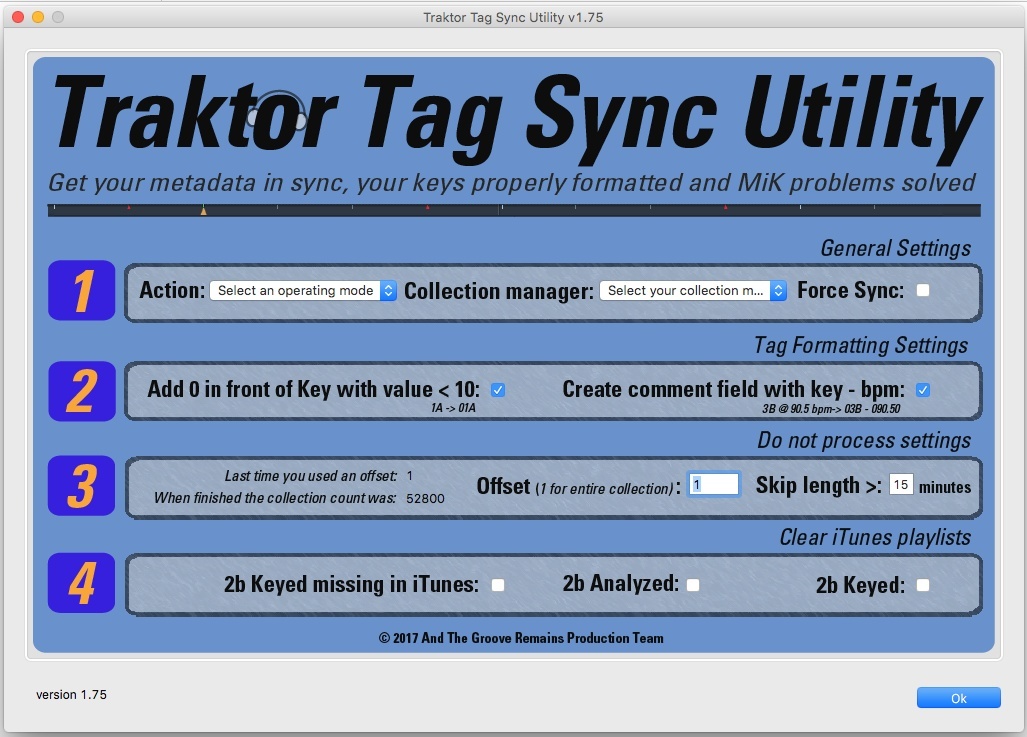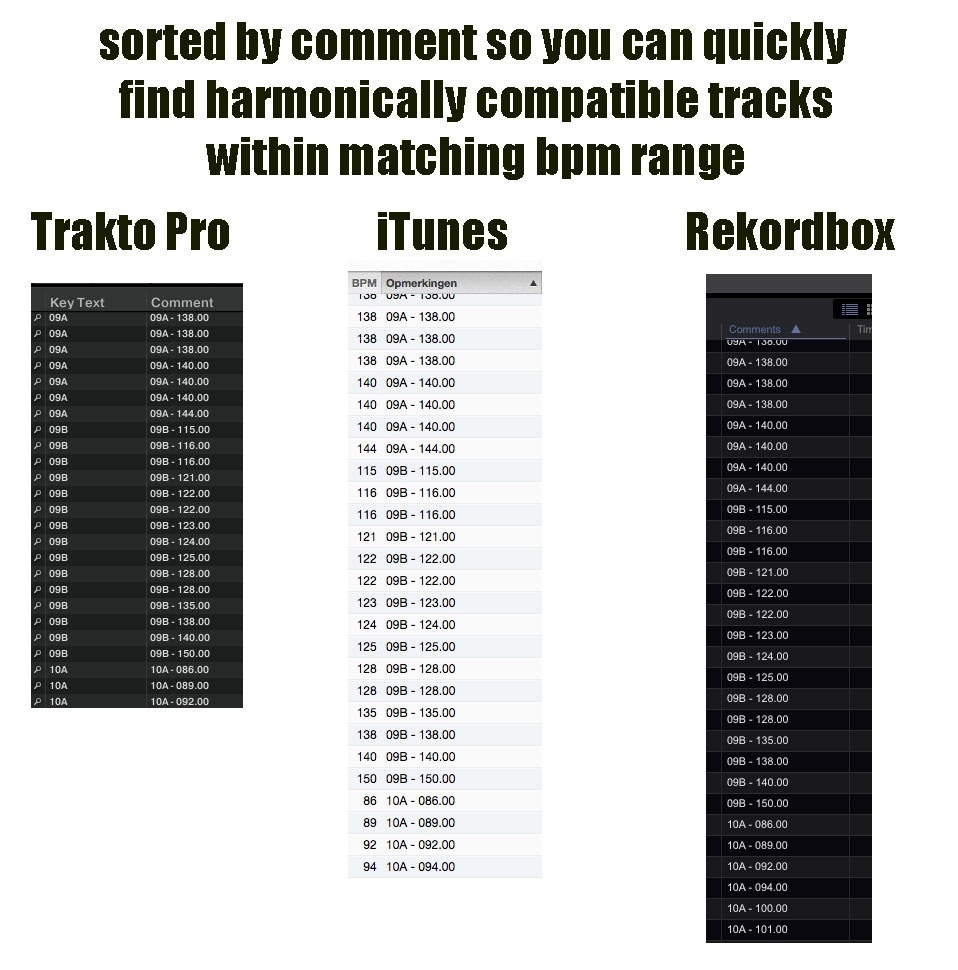 Traktor Tag Sync Utility for MacOS.
version 1.786 as off 01/02/2018
If you got problems with the processing of your paypal payment then contact me!


The tutorial videos are at
Part 1, the theory behind it all is explained at
https://youtu.be/HXwkItjcTfA
Part 2, The actual how-to video is at
https://youtu.be/jUNjAYGULHY
If you like the my utilities then don't forget to give them a thumbs up.
The Traktor Tag Sync Utility 
fixes
the problems with Camelot keys not showing in Native instruments Traktor Pro and cues dissapearing from your collection.
But it does more...
With every track from in your Traktor Pro collection TTSU will:


Collect the ones that need to be analyzed by Traktor


Remove duplicates and collect miss-formatted paths from Traktor collection


Check for valid Camelot key


Format Camelot key and Comment tag


Auto recovers Camelot key if missing


Collect the ones without Camelot key to iTunes playlist


Fixes mp3 files that got problems


Synchronize timestamp in collection with the time stamp of the track file. This is the source to most Mixed in Key/Traktor Pro combo problems.


Synchronize most metadata incl star ratings with iTunes.


The Traktor Tag Sync Utility is by far the easiest and quickest way to ensure that all tracks in your Traktor Pro collection have a valid Camelot key. It will collect the tracks without a Camelot key to a dedicated playlist in iTunes for easy importing in your Keying program of choice (Mixed in Key etc).
It will also make sure that the metadata tags (artist, title, album, ratings etc) you use in iTunes are the same in Traktor Pro.
The Traktor Tag Sync Utility scans your entire Traktor collection for tracks with a Camelot Key.
If no Camelot key is found, or if the key is not a valid Camelot key, the utility will try to get the correct key from the comment field through iTunes or the track's file tag. Saving you the time from having to re-analyze the track. If no valid key is found it will add the track to an iTunes playlist named '2b keyed'.
If the key is valid the Traktor Tag Sync Utility will reformat the key if needed. Adding a zero in front of those Camelot keys with a numerical value of less then 10 and adding a "0" in front of BPM values less then 100. It will also do this in the comment tag, so the comment field can be sorted in a useful way.
1A with bpm 100 converts to comment "01A - 100.00"
3A with 80 bpm converts to comment "03A - 080.00"
Comment tags are more widely accepted by devices like the pioneer cdj's and applications who normally don't display key information (iTunes for instance).
On the more technical side of things. If the track is an mp3 file then the Traktor Tag Sync Utility will make sure it only contain MP3 v2.4 tag data. If somehow the track's (mp3) tags are damaged or locked TTSU will try to repair that.
The formated key & comment tags are written back to the track's file so other applications can make use of it as well.
The Traktor Tag Sync Utility works on Apple MacOS 10.11 and higher it's not tested on other systems but most likely will work fine from 10.9 and up.
It requires a vertical screen resolution of 1000 pixels or higher, TTSU will run fine on lower resolutions but the User Interface will not look good (still usable tho).
facebook page:
https://www.facebook.com/Traktor-Tag-Sync-Utility-TTSU-309930246087589/
Now includes a procedure allowing Mixed in Key to write its automatically found cues to Rekordbox. 
(our other utility, the DJ Conversion Utility is required for this procedure).
Known limitations
TTSU only works on UTF8 character sets. Extended characters sets in UTF16 are not supported.
Windows users we are sorry, but we are exclusively MacOS orientated, so there will be no windows version, not now, not in the future.
The catalog of our DJ apps:
https://www.dropbox.com/s/0gl2jrw5cjfl5q4/Product%20flyers.pdf?dl=1
You'll get a 8.6MB .ZIP file.
More products from And The Groove Remains Production Team