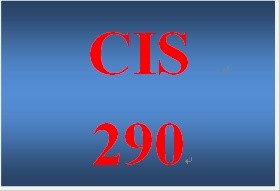 CIS 290 Week 2 Worksheets (Appendices A, B, & C)
CIS 290 Entire Course Link 
https://uopcourses.com/category/cis-290/
CIS 290 Week 2 Worksheets (Appendices A, B, & C)
Complete
 the following worksheets located in the appendices document on the student website:


Computer Research Worksheet (Appendix A)


Computer Hardware Simulator Worksheet (Appendix B)


Comparing Computers Worksheet (Appendix C)


Appendix A - Computer Research Worksheet 
Moore's Law states that the number of transistors on a computer chip doubles every two years. This means that the power, speed, and application of computers are ever increasing. Along with these changes in performance, software is also improving, constantly pushing a computer's capabilities to the edge.
As a computer technician, you must constantly stay up-to-date with these changes in technology. This includes understanding the dynamics of hardware and software and how they interact with each other. To stay current, you must include research as a necessary part of your job. With rapid changes going on in the computer industry, a technician needs to build a trusted network of information resources that includes websites, periodicals, and industry professionals.  
Computer benchmark tests and tools are other resources you can turn to for computer information. In a benchmark test, the performance of a software application is measured when one brand of a hardware component is placed inside a computer. By using the same application and computer for each test, different brands of a component can then be compared with one another, allowing you to choose the best brand for the job at the price you want to pay. Benchmarks are a good way to get you started with your research, and you will be using them throughout this course. 
To help you get started, here are some helpful websites:  
·
www.pricewatch.com
: This is a helpful site to check pricing; however, be sure to look at the condition of the product. It can be listed as new or refurbished.
·
www.tomshardware.com
and
www.kingston.com
: These are benchmark sites to check out product performance.
·
www.pcworld.com
: This is a popular site for information and product reviews.
·
www.ifixit.com
and
www.macfixit.com
: These are helpful sites for troubleshooting. 
Keep in mind that these are just a few of the many sites available for computer technicians. As you continue gaining experience, you develop your own network of trusted information resources.
 Activity: Information Research
Begin your research by searching the Internet for other websites not mentioned previously that offer pricing, technical reviews, and troubleshooting for computers and computer components. Enter these websites into the chart below: 
 Websites
Price check site 
Price check site 
Price check site 
Product review site 
Product review site 
Product review site 
Troubleshooting site 
Troubleshooting site 
Troubleshooting site  
Appendix B – Computer Hardware Simulator Worksheet 
The Computer Hardware Simulator (CHS) is designed to give you an opportunity to explore and familiarize yourself with external and internal computer hardware parts and components. You will be using the computer featured in this simulator throughout this course to help you with your assignments.
Take some time to explore and examine the different pages in the simulator. Your assignments will require different information featured in the simulator to complete your work. Some of the information will be basic and you will need to search the Internet to complete the necessary information.
Below is a chart where you can fill in the CHS computer's make and model, part numbers, and other information. Keep this chart handy as a reference throughout the course. 
Computer Hardware Simulator:
https://ecampus.phoenix.edu/secure/aapd/AXIA/cis280/Computer_Hardware_Simulator.html
Computer Hardware Simulator Computer Component BrandPart Number
Computer make and model  
Motherboard   
Processor  
Power supply  
Hard drive  
Memory  
Mass storage      
Appendix C - Comparing Computers Worksheet  
Computers range in price and options the same way as many other consumer products. Before you can buy a computer, you must consider the type of computer you want or need and the price you are willing to spend on it. Researching a product is a great way to compare many variables and helps you determine exactly which computer to buy.  
Activity One: Preassembled Computer Search
For the following activity, think of a computer that you would like to have. Determine how you would use this computer, whether it is for work, school, gaming, or some other use. Visit two online computer manufacturers (
www.dell.com
,
www.hp.com
,
www.gateway.com
, or
www.toshiba.com
to name a few), and find a preassembled computer from each company that best matches your dream machine. In the chart below, fill in information for each of the two computers. Then, choose which computer you would buy, and give a brief explanation on why you would pick it over the other.  
Preassembled Computer Chart
ComponentComputer 1Computer 2
Make, model, and series   
Processor/GHz   
Operating system   
Display   
Optical/CD/DVD drive   
Hard drive   
Memory   
Video/Graphics card   
Operating system   
Warranty   
Other   
Price and website     
Make and Model of computer I would choose: _________________________________________________  
Reasons for choosing this model: ___________________________________________________________ 
Activity Two: Custom-Built Computer Search
Now that you've seen what some preassembled computers cost, research what your dream computer would cost if you built it yourself. Visit a computer parts supplier (such as
www.pricewatch.com
) on the Internet and fill in the specifications and prices for the components shown below. Then add up the prices to find the total cost of your custom-built computer. 
Custom-Built Computer ChartComputer Component
Component Information/SpecsComponent   Price
Processor/GHz    
Motherboard    
Fan    
Operating system    
Display    
Power supply    
Optical/CD/DVD    
Hard drive    
Memory    
Video/Graphics card    
Case/Rack    
Other       
Total Price:
You'll get 1 file (107.5KB)