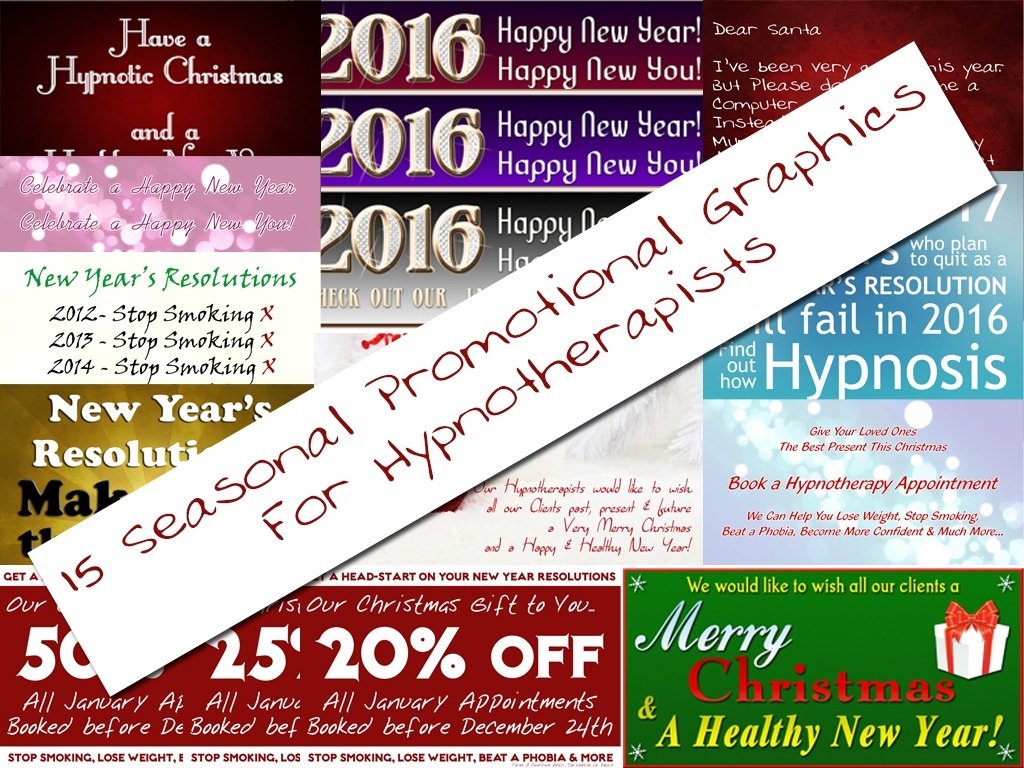 15 Seasonal Promotional Graphics for Hypnotherapists
With less than 1 month to January 2016, as a Hypnotherapist you should be looking at your marketing strategy for Christmas, and of course the all important New Year. Included are 15 separate graphics that are ready for you to use in your Social Media Campaigns, and on your websites, specially designed for Hypnotherapists. Post a graphic on your Facebook Page or on your Twitter account to promote your services to existing followers and "boost" the post to capture the attention of new clients.. No need to add your contact details - as the post will link back to your account. Included are images to wish your clients a Merry Christmas and a Healthy New Year, Promote Stop Smoking and Weight Loss etc as New Year's Resolutions, a ready made discount advert to get early bookings for January before Christmas Eve (with 20%, 25% & 50% Off) and a child's letter to Santa that would make the most selfish parent consider booking a Hypnotherapy Session. Some of these Marketing Graphics are strong and "In Your Face" whilst others are a lot softer. At US$27 (approx £18) for all 15 graphics, that is less than $2 (£1.20) per graphic... far cheaper than Fiverrr, and a fraction of the income of one hypnotherapy client.
You'll get a 4.9MB .ZIP file.
More products from Harrizon