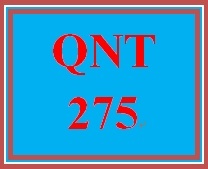 QNT 275 Week 3 Practice: Week 3 Discussion Question 2
Entire Course Link
https://uopcourses.com/
https://plus.google.com/u/0/108200033792883877670/posts/dWT4sDYbQKM
 QNT 275 Week 3 Practice: Week 3 Discussion Question 2
Sample Space
In your own words, how would you describe a sample space?  What are some examples?  Please use examples that are different from those in the textbook.
Write a sample space/probability question for your classmates to answer.  Example:  A game spinner has four equal sections, and they are colored red, blue, black, and white.  What is the sample space?  What is the probability of landing on red after spinning one time?
Respond to the questions your classmates have written.
You'll get 1 file (37.0KB)