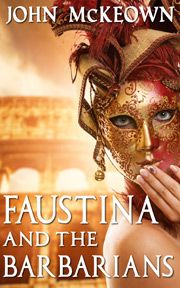 Faustina and the Barbarians by John McKeown
Rome wasn't built in a day but Faustina Maxima, antithesis of the passive Roman matron, can screw herself out of a threatening situation quicker than you can say, "Veni, vidi, vici!" This statuesque beauty, descendant of a famous emperor is a one-woman sexual killing machine that eats savage Goths and Saxons for breakfast—and is also partial to a Pict or two—while lunch, dinner and supper is any Roman who takes her fancy. Like any great general she's blessed with imagination, and open to every possibility for maximising pleasure. For, as she writes to her daughter-in-law Flavia, the lucky recipient of her mother-in-law's unblushing exploits among the barbarians, "what is life without ever fresh adventures?"

Warning: This title contains graphic language and is suitable for adults only.

'Faustina and the Barbarians' is a 21.000 words historical erotica novella

(Zip file contains .epub , .mobi and .pfd files. Use the .mobi file for your Amazon Kindle, and use the .epub file for your iPad, iPhone, Sony eReader, Nook and other devices. The .pdf file can be read on any computer or device. These files will NOT automatically be sent to your device of choice and you'll have to manually add them.)

VENDOR WILL BE SHOWN AS 'Q.P.S. PROJECTS LIMITED' DURING THE TRANSACTION AND ON YOUR PAYPAL OR CREDIT CARD STATEMENT.
AFTER PAYMENT WITH PAYPAL YOU WILL BE TAKEN TO A SECURE DIRECT DOWNLOAD LINK.
You'll get a 1.2MB .ZIP file.