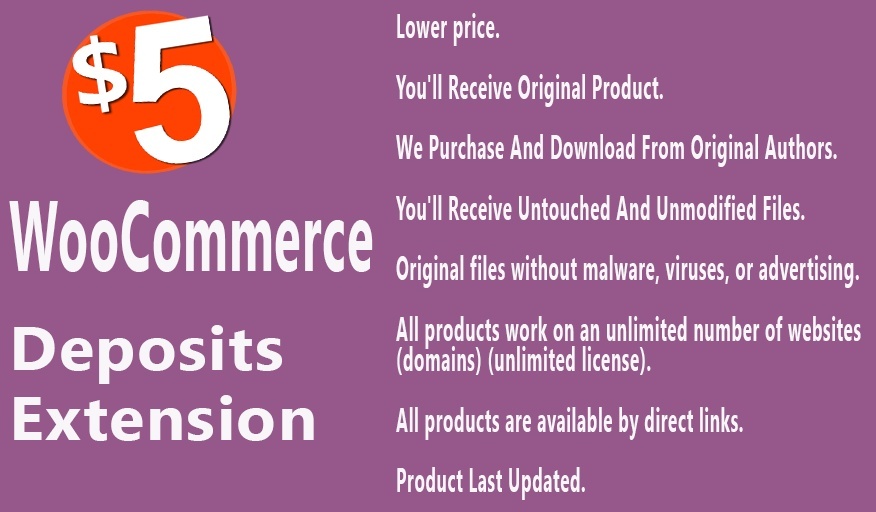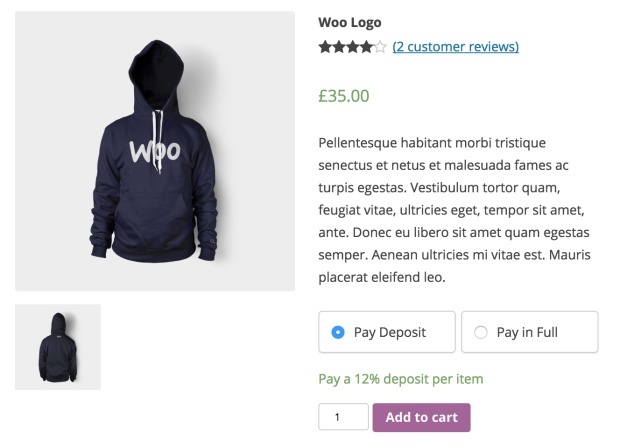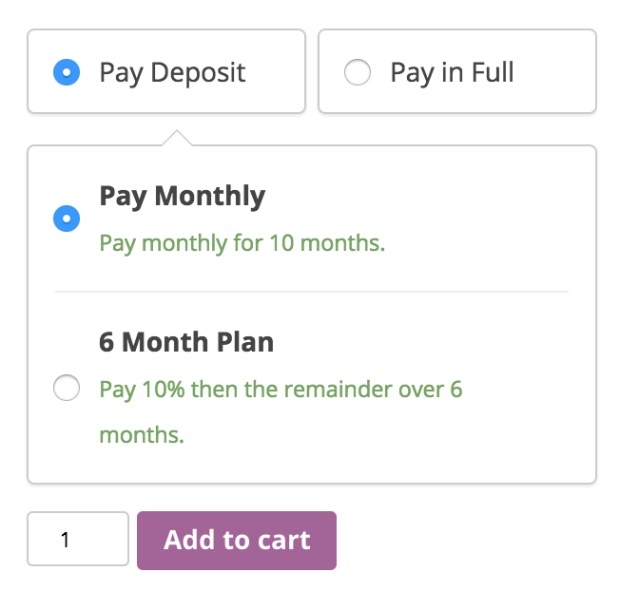 WooCommerce Deposits Extension
WooCommerce Deposits 1.3.6 Extension
---
WooCommerce Deposits Extension Version : 1.3.6

WooCommerce Deposits Extension: allows your customers to pay for products using a deposit or a payment plan.

---
Exactly the same! This is the EXACT same plugin (Version 1.3.6) being distributed by WooCommerce.com
---
WooCommerce Deposits Extension: Why You Need ItWooCommerce Deposits Extension lets you offer your customers the option of paying a 'deposit' or paying with a payment plan. You may also give your customers the option to pay 'in full' OR using the deposit or payments plans.Set up payment plans based on months, weeks or days. You can even charge interest on the payments.

Want to offer a payment plan instead of just a one-time deposit? With the WooCommerce Deposits Plugin, you can!
---
Buy Now============================================You'll get a download link immediately after purchase============================================Lower price.You'll Receive Original Product.We Purchase And Download From Original Authors.You'll Receive Untouched And Unmodified Files.Original files without malware, viruses, or advertising.All products work on an unlimited number of websites (domains) (unlimited license).All products are available by direct links.Product Last Updated.Download WooCommerce Deposits.You'll receive the exact .zip file you would download from the original author. If you buy from here, you can save your money up to 99% and 100% virus free.Viewhttps://woocommerce.com/products/woocommerce-deposits/
You'll get a 55.1KB .ZIP file.
More products from WooCommerce Plugins Extensions