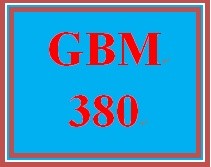 GBM 380 Week 5 WK 5 Learning Team Assignment-Assignment-Global Strategies Paper
GBM 380 Entire Course Link
https://uopcourses.com/category/gbm-380/
GBM 380 Week 5 WK 5 Learning Team Assignment-Assignment-Global Strategies Paper
Write a 1050 - 1750 word paper.  As a Prime Minister of a developing country you want to attract Foreign Direct Investment to your country. 
What factors would you consider in creating attractive conditions for investors?
Explain how you would make this decision.
Format your paper &  your References page consistent with APA guidelines.  Show at least 3 peer-reviewed references.
Click the Assignment Files tab to submit your assignment.  
You'll get 1 file (26.0KB)
More products from UopTutorials