WLA 07 | Landscape Architecture Magazine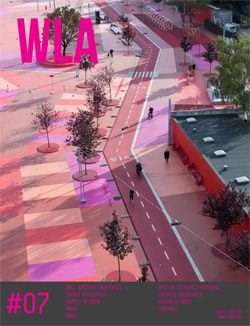 WLA 07 | Landscape Architecture Magazine
WLA 07 is full of colorful project including projects from BIG | TOPOTEK1 | SUPERFLEX, Martha Schwartz Partners, Sasaki Associates, NBBJ, ASPECT Studios, Balmori Associates, MKSK | OLIN, Nomad Studios and Urbanbs. WLA 07 is full of wide range of projects from across the world from the small installation to the Chicago Riverfront.
More from this seller
WLA #02 features the 9/11 Memorials in New York and Pennsylvania Projects featured include SHARED SPACE 2.0 | OKRA| MAXWAN A+U | BASLER&HOFMANN PINK BALLS | CLAUDE CORMIER WUYUAN MOON BAY | HASSELL FLIGHT 93 NATIONAL MEMORIAL | PAUL MURDOCH ARCHITECTS & NELSON BYRD WOLTZ LANDSCAPE ARCHITECTS ...
WLA #03 feature project was STOCKHOLMSPORTEN by BIG (BJARKE INGELS GROUP) Projects featured in this edition include STONE RIVER | JON PIASECKI AQUA-CULTURES | STOSS LANDSCAPE URBANISM DARLING QUARTER | ASPECT STUDIOS LA MUÑECA | OGLO STOCKHOLMSPORTEN | BJARKE INGELS GROUP BEACH PROMENADE | SPEKTRUM ...
Projects featured in WLA 04 include MARGARET MCMILLIAN PARK | BDP SHIFTING FIELDS | ACT CENTRAL DELAWARE RIVERFRONT MASTER PLAN | OLIN RIVER OF LIFE | HASSELL WILMINGTON WATERFRONT PARK | SASAKI ASSOCIATES PETRA STRATEGIC MASTER PLAN | DESIGN WORKSHOP STAR MAZE | LOLA, DELTAVORMGROEP AND PIET ...
Choose product
Place order
Download product
Secure 256-bit connection
Choose product
Place order
Download product