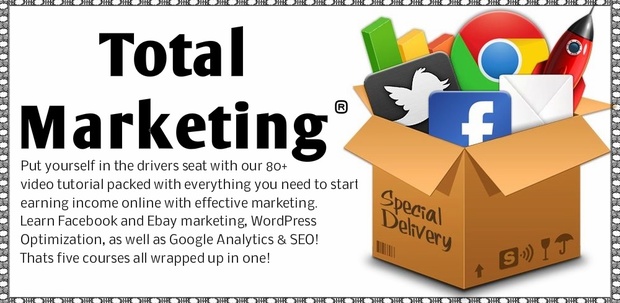 Total Marketing® Course
Explore online marketing strategy with the experts. Learn how to create a marketing plan and use social media like Facebook and Instagram to market your business online. Discover best practices for search engine optimization (SEO) to drive sales leads and increase customer engagement.
   This course includes
five core subjects
that give newbies the most trouble. The five core ciriculum courses are:


Total Facebook Marketing - How to avoid being flagged as spam, kicked out of groups and having your acount locked aka "Facebook Jail")


Total Ebay Marketing - Want to sell online but dont have any products? This will give the correct kickstart in the right direction


Total Google Anyalitics - A comprehensive guide from the Googlites themselves in Dublin


Total Search Engine Optimization - A newbie friendly step by step manual on how to get your website, Facebook page, and any other online presence you have online  ranking to the top of Google based on the most popular search words. Brought to you straight from Googlite engineers in Googles Dublin Headquarters.


Total WordPress Optimization - Learn theme tricks and ranking tips.


   You get all these subjects in one affordable package! No need to pay an arm or a leg for each of these subjects seperatly, get it all right here and get started right away! Also you'll recieve email support on how to start earning an income online even if you dont have a business in mind. We'll show you how to replicate the same process we use for affiliate marketing and how to start your own turnkey business!
We keep the cost low, and pass the profits on to you!
Start your new life today!
You'll get 1 file (1.9GB)
More products from A.G. Money Inc.