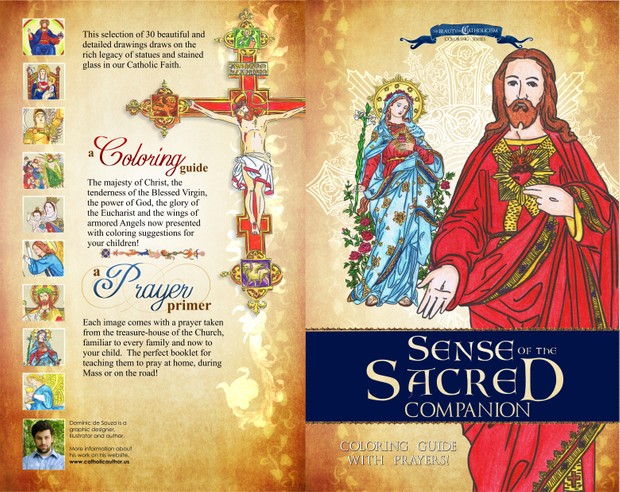 'Sense of the Sacred' Coloring Companion
The majesty of Christ, the tenderness of the Blessed Virgin, the power of God, the glory of the Eucharist and the wings of armored Angels now presented with coloring suggestions for your children! This selection of 30 beautiful and detailed drawings draws on the rich legacy of statues and stained glass in our Catholic Faith. Each image comes with a prayer taken from the treasure-house of the Church, familiar to every family and now to your child. The perfect booklet for teaching them to pray at home, during Mass or on the road!
The 'Beauty of Catholicism' Coloring Series is a contribution to Bl. John Paul II's call for a rediscovery of the 'sense of the sacred'. Pictures include God the Father, the Sacred Heart of Jesus, Christ Scourged, Christ the Consoler, Christ the King, Christ Crucified, Christ the Redeemer, Christ Resurrected, a Crucifix, a Monstrance, Our Lady of the Immaculate Heart, the Pieta, the Woman of Revelation, Our Lady of Fatima, Mary Help of Christians, Our Lady of Walsingham, the Virgin Mary, St Michael the Archangel, Angel of the Chalice, Angel of Incense, Guardian Angels, Praying Angels.
Official page:
http://catholicauthor.us/books/sense-of-the-sacred-coloring-companion/
Print version from Amazon:
http://www.amazon.com/Sense-Sacred-Companion-Coloring-Prayers/dp/1478336102
You'll get 1 file (26.4MB)
More products from Dominic de Souza