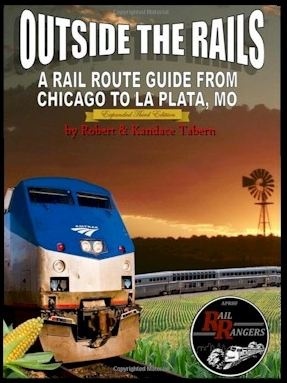 Outside the Rails: A Rail Route Guide from Chicago to La Plata, MO (Expanded Edition)
This extremely in-depth 350-page railroad route guidebook covers the 298-mile-long route between Chicago, Illinois and La Plata, Missouri. This book provides more than one page of information per mile as your train passes through such communities as La Grange, Naperville, Plano, Mendota, Princeton, Kewanee, Galesburg, and Fort Madison. Learn about fascinating stories like the Cherry Mine Disaster, Ella Ewing - the world's tallest woman who called Gorin, Missouri home, and the Mormon Pioneer Trail. This book by Robert & Kandace Tabern was written for passengers traveling Amtrak's Southwest Chief®. It can also be used between Chicago and Galesburg for passengers traveling Amtrak's California Zephyr®, Illinois Zephyr®, or Carl Sandburg® trains.
You'll get a 129.7MB .PDF file.