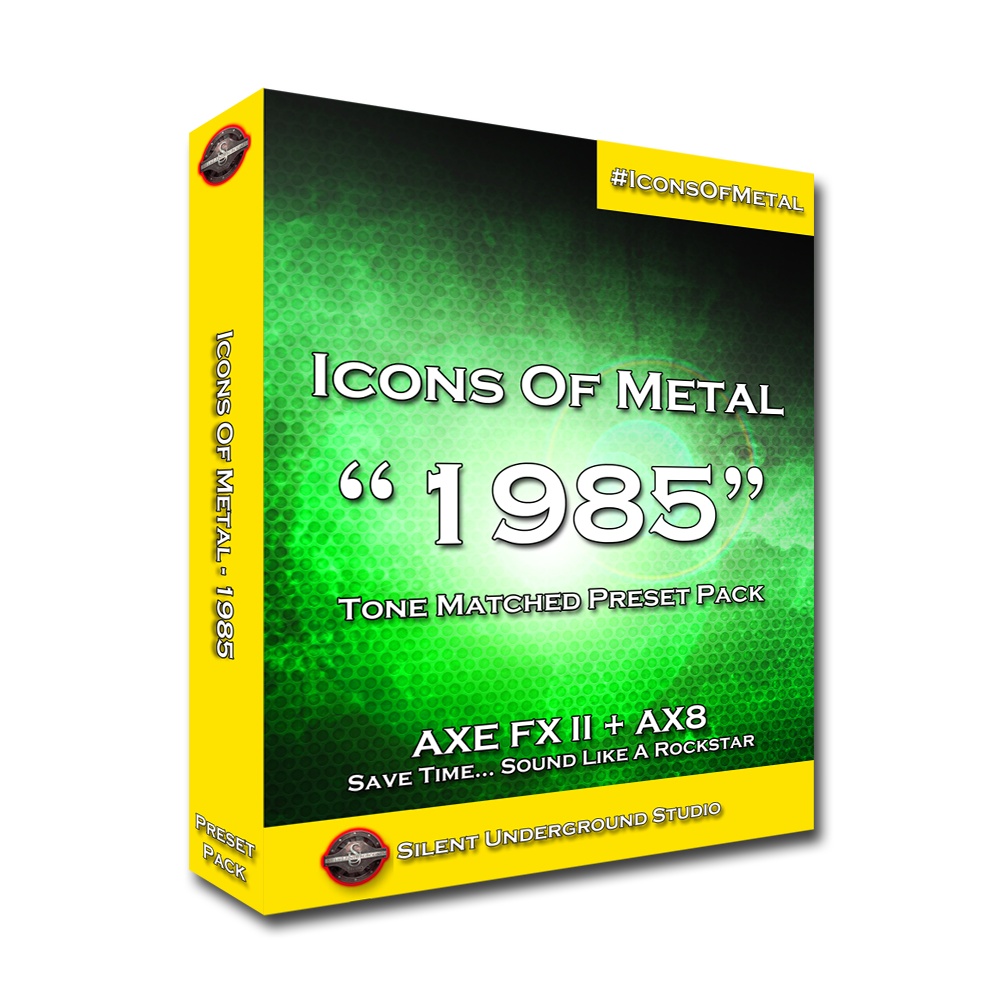 ICONS of METAL - 1985 (FAS)
#IconsOfMetal - 1985  /  62 Tone Matched Presets
of iconic metal and rock albums released in 1985 !!

Setup - Direct Recording / Straight to PA / FRFR
Firmware - Q9 **NEW UPDATE
Models - AXE FX II, AXE FX II XL, and AX8
Scenes Switching? - Yes. 6 scenes for each preset

We know that your time is valuable.
We know all too well the frustration of lost time trying to program presets, create tone matched cabinet IRs and configure setups for complex modern guitar processors like the AXE FX II. That is why we spend the time making these Preset packs for you, so you can SAVE TIME & SOUND LIKE A ROCKSTAR !!

Why we use Cabinet IRs and not the Tone-Match Block: Our tone-matched Preset Packs use custom Cabinet IRs NOT the internal "Tone Match" block of the AXE FX II. This allows us to achieve much closer sounding STEREO presets, that also work with the Fractal Audio AX8.


---

What You Get In This Pack:

Presets AND Cabinet IRs:
AC/DC - Fly On The Wall
Accept - Metal Heart
Aerosmith - Done With Mirrors
Alcatrazz - Disturbing The Peace
Anthrax - Armed and Dangerous
Anvil - Backwaxed
Armoured Saint - Delirious Nomad
Artillery - Fear Tomorrow
Avenger - Prayers Of Steel
Axewitch - Hooked On High Heels
Bon Jovi - 7800 Degrees Fahrenheit
Burning Starr - Rock The American Way
Celtic Frost - To Mega Therion
Chaistain - Mystery Of Illusion
The Cult - Love
Destruction - Infernal Overkill
Dio - Sacred Heart
Dokken - Under Lock and Key
Exciter - Long Live The Loud
Exodus - Bonded By Blood
Grave Digger - Witch Hunter
Halloween - Dont Metal With Evil
Hawaii - The Natives Are Restless
Helloween - Walls Of Jericho
Hirax - Raging Violence
Holland - Little Monsters
Icon - Night Of Crime
Iron Angel - Hellish Crossfire
King Kobra - Ready To Strike
Kiss - Asylum
KIX - Midnight Dynamite
Kreator - Endless Pain
Lááz Rockit - No Stranger To Danger
Living Death - Metal Revolution
Lizzy Borden - Love You To Pieces
Manilla Road - Open The Gates
Megadeth - Killing Is My Business...
Gary Moore - Run For Cover
Motely Crue - Theatre Of Pain
Overkill - Feel The Fire
Onslaught - Power From Hell
Possessed - 7 Churches
Ratt - Invasion Of Your Privacy
Raven - Stay Hard
Razor - Executioners Song
Running Wild - Branded And Exiled
Savatage - Power Of The Night
Saxon - Innocence Is No Excuse
Slayer - Hell Awaits
S.O.D - Speak English Or Die
Tokyo Blade - Black Hearts and Jaded Spades
Trouble - The Skull
Venom - Possessed
Vicious Rumours - Soldiers Of The Night
Virgin Steel - Noble Savage
W.A.S.P - The Last Command
Warlock - Hell Bound
Warrior - Fighting For Earth
Whiplash - Power and Pain
White Lion - Fight To Survive
Waysted - The Good, The Bad, and the Waysted
Wrathchild - Trash Queens

Scenes Available Per Preset:
Scene 1 - Rhythm
Scene 2 - Rhythm + Chorus
Scene 3 - Lead
Scene 4 - Lead + Chorus
Scene 5 - Lead with Wah
Scene 6 - Lead with Wah + Chorus


---

Disclaimer:
Please first know HOW to use your hardware / software BEFORE purchasing our products. They are made to work in any standard AXE FX II and AX8 setup without the need for additional external processing. No refunds are given on digital products.
You'll get a 1.7MB .ZIP file.
More products from Silent Underground Studio