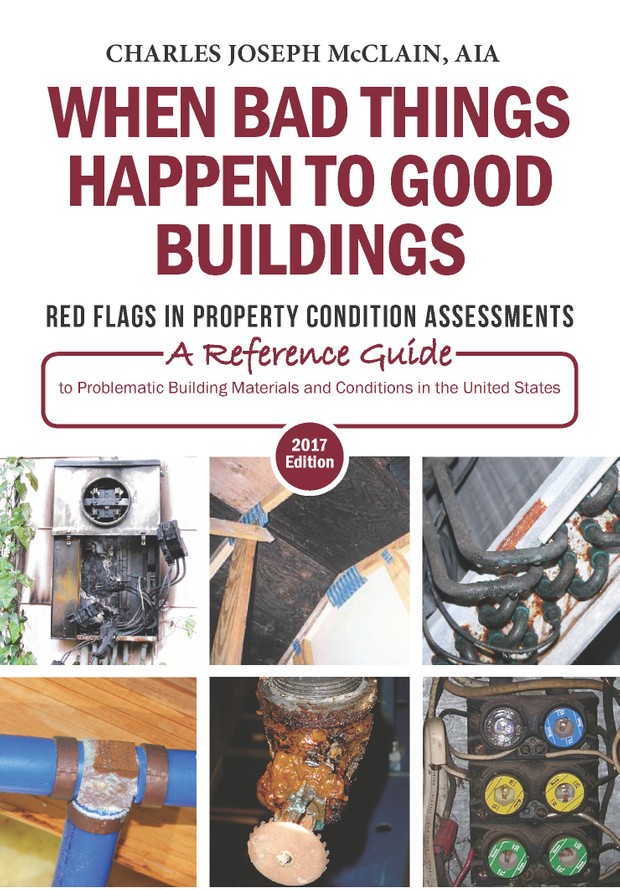 When Bad Things Happen to Good Buildings: Problematic Building Materials and Conditions in the U.S.
The presence of various historically-deficient building materials such as polybutylene piping, fire-retardant treated plywood, and aluminum branch wiring is considered a "red flag" by real estate investors, managers, and lenders. The identification of these problematic building materials and/or conditions is vital to the legitimacy of the due diligence effort, critical to successfully operating a property, and imperative to profitable real estate investing.

For those investing in real estate, managing properties, and performing Property Condition Assessments, it is important to have a good working knowledge of these materials, components, and conditions due to their history of failure and the resulting impact on safety, real estate value, and operations.

The first publication of its kind, this reference book discusses 20 different problematic building materials, components, and conditions seen in commercial and residential real estate throughout the United States. This book has been designed to be used by students, due diligence engineers, and real estate professionals as a reference guide while studying, evaluating, and operating commercial properties.

With over 300 images and diagrams enabling the reader to identify these problematic materials, this book discusses the following building components and conditions:

1.     Acrylonitrile Butadiene Styrene (ABS) Sanitary Piping
2.     Aluminum Branch Wiring
3.     Cadet and Encore Electric In-Wall Heaters
4.     Chinese Drywall
5.     Composite Wood Siding
6.     Cross-Linked Polyethylene (PEX) Piping
7.     Edison Base (Type T) Fused Electrical Overload Protection
8.     Federal Pacific Electric (FPE) Electrical Panels
9.     Fire Retardant Treated (FRT) Plywood
10.   HCFC and CFC Refrigerants in Air Conditioning Systems
11.   Insufficient Apartment Unit Electrical Amperage
12.   Microbiologically Influenced Corrosion (MIC) in Fire Sprinkler Systems
13.   Mold
14.   Phenolic Foam Roofing Insulation (PFRI)
15.   Polybutylene (PB) Water Distribution Piping
16.   Recalled Fire Sprinkler Heads
17.   Recalled PTAC, Heat Pump, and Room Air Conditioner Units
18.   Single-Ply Thermoplastic Membranes
19.   Synthetic Stucco / Exterior Insulation Finish System (EIFS)
20.   Zinsco/Sylvania Electrical Panels

In addition, the book features examples of historical and informational exhibits including landmark class action settlement documents, notable recall claim forms, and detailed manufacturer's brochures of historically-deficient building components over the past fifty years.

This first edition of the reference guide has been arranged to present the 20 historically problematic building materials and conditions commonly acknowledged in the commercial building evaluation industry. Each chapter features a different red flag with information and discussion on the following topics:
 
A.      Description of the Material, Component, or Condition
B.      Installation Dates
C.      Geographic Region
D.      Manufacturers and Trade Names
E.       Common Problems
F.       What to Look For During an Inspection
G.      Lawsuits and Recalls
H.      Replacement Materials
I.        Cost to Correct

These topics provide specific data designed to be used by due diligence and real estate professionals as a reference while evaluating, operating, and investing in commercial and residential properties.
You'll get 1 file (76.8MB)
More products from McClain Consulting Services, Inc.