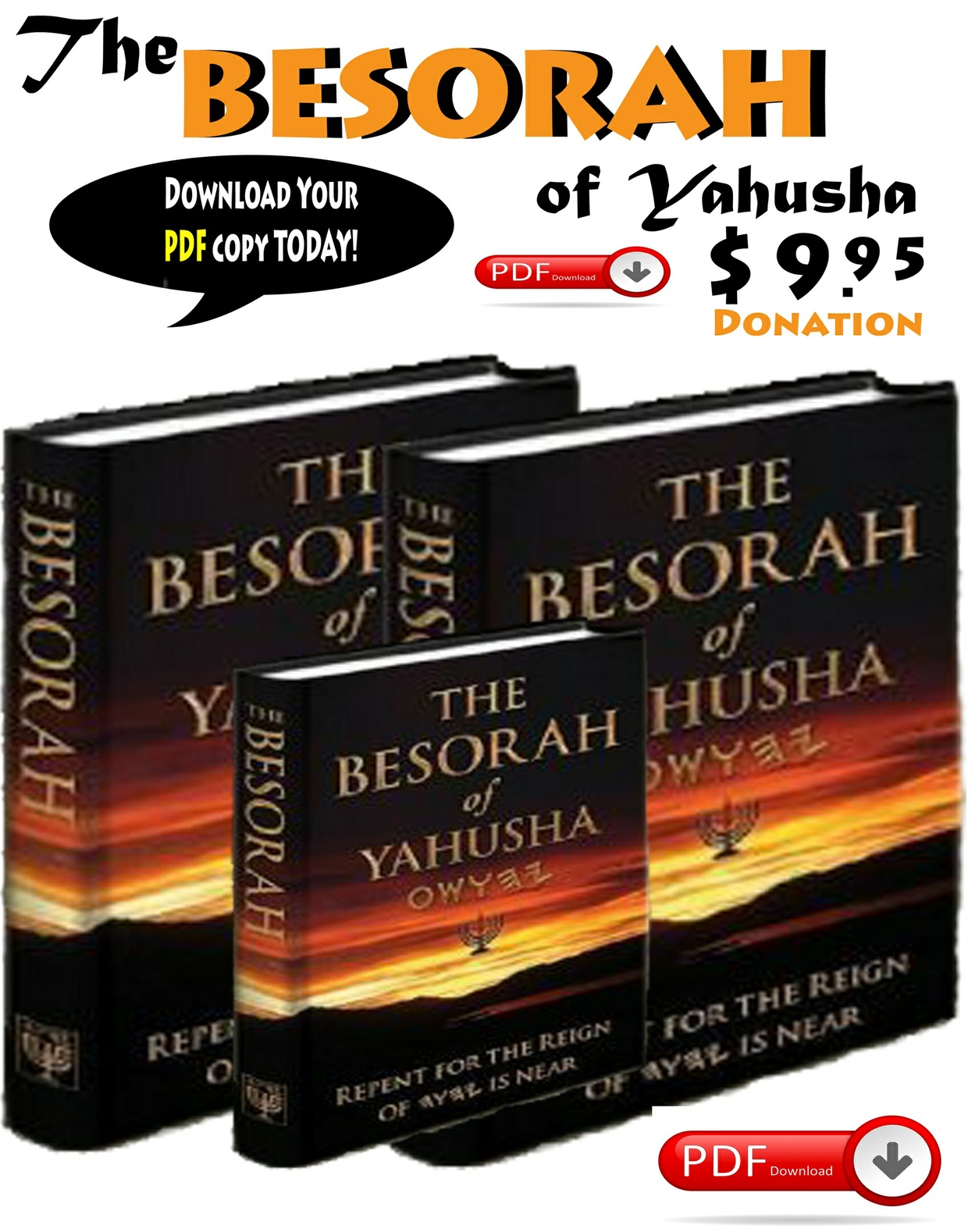 The Hebrew Besorah of Yahusha the Good News for the End Times!
The Hebrew Besorah of Yahshua is the absolute BEST scriptural TRANSLATION of the (Dead Sea Scrolls) to book form on the market today bar none. This is the MOST Valued Transliteration of scripture this world has ever seen published.

The Besorah provides each reader with an accurate interpretation which is one generation removed from the actual original Hebrew scriptures found in the (Dead Sea Scrolls) as well as the Hydroglifics found inside Ancient Pyramids in Egypt.

The Besorah will give you POWERFUL Insight to ancient history as well as proper interpretation of what the Most High originally wanted for His chosen people (The 12- Lost Tribes) of Yisra'el who became lost thousands of years ago and this book will teach us all what YHWH the great (Ahyah-I Am) expects from all of us TODAY!.

This book comes complete with a Hebrew Alphabet Chart for your convenience and accuracy of ancient language.

As a Kohen (Teacher) of the Hebrew scriptures today, I must personally say that this is the BEST translation of the original (Dead Sea Scrolls) on the MARKET today, GUARANTEED!

The Hebrew Helping Hand Ministry, as well as myself, have utilized the Besorah of Yahshua which means the (Good News) specifically this version of the scriptures for all of our teachings and lectures over the past (7 Years) and I highly recommend this book to all those that study scripture or eschatology at the highest level in the world.

We also highly recommend this book to Pastors, Ministers and Scalars worldwide and those that follow Endtime teachings to truly consider purchasing the actual Besorah or at the very least (Download) your own PDF Copy of this treasured translation of scripture.

This is the Worlds BEST Translation of Scripture and a MUST HAVE BOOK for anyone's scriptural Libray, GUARANTEED!

Shalom!
You'll get a 6.4MB .PDF file.
More products from Hebrew Helping Hand Ministry