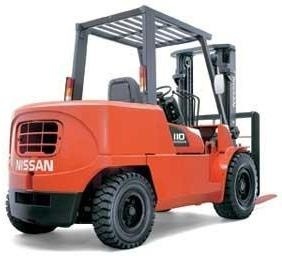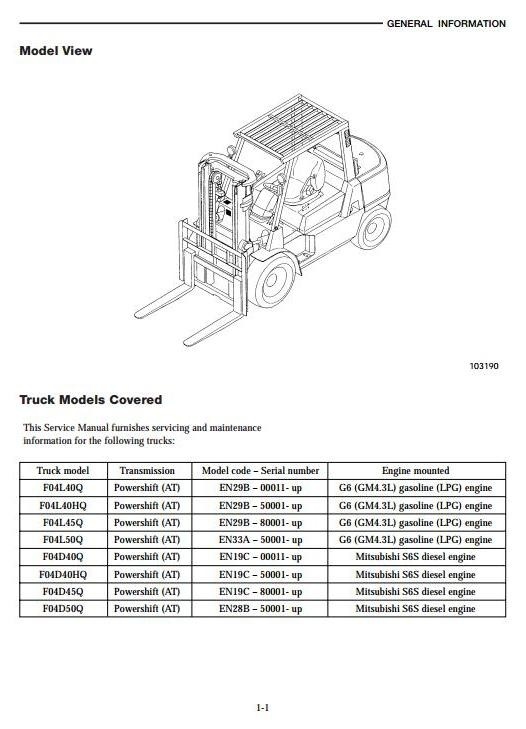 Nissan F04D40(H)Q, F04D45Q, F04D50Q, F04L40(H)Q, F04L45Q, F04L50Q Workshop Service Manual
Original Illustrated Factory Workshop Service Manual for Nissan Diesel and LPG Forklift Truck F04 Series.

Original factory manuals for Nissan Lift Trucks contains high quality images, circuit diagrams and instructions to help you to operate, maintenance and repair your truck. All Manuals Printable, without restrictions, contains Searchable Text and bookmarks

Covered models:
    F04D40HQ (EN19C – 50001- up)
    F04D40Q (EN19C – 00011- up)
    F04D45Q (EN19C – 80001- up)
    F04D50Q (EN28B – 50001- up)
    F04L40HQ (EN29B – 50001- up)
    F04L40Q (EN29B – 00011- up)
    F04L45Q (EN29B – 80001- up)
    F04L50Q (EN33A – 50001- up)

Compatible WIN/Mac
Language: English
Format: ZIP, contained Set of PDF manuals:
1. GM 4.3 Engine Manual (LPG), PDF, 155 Pages
2. TB45 Engine Manual, PDF, 287 Pages
3. S6S Engine Manual (Diesel), PDF, 146 Pages
4. Vehicle Service Manual, PDF,
    Contents:
        GENERAL INFORMATION
            Model view, Truck models covered, Serial number locations, Dimensions, Technical data
        COOLING SYSTEM
            Fan removal and installation, Fan belt inspection and adjustment
        ELECTRICAL SYSTEM
             Console box, Chassis electrical devices, Lamp bulb specifications,
             Battery maintenance, Electrical system schematic
        POWER TRAIN
             Removal and installation
        POWERSHIFT TRANSMISSION
             Torque converter, 1-speed transmission, Control valve,
             Automatic 2-speed transmission, Solenoid valve, Hydraulic control
        FRONT AXLE AND REDUCTION DIFFERENTIAL
             Front tires, Front axle, Reduction and differential
        REAR AXLE
             Rear tires, Rear axle, Toe-in, Minimum turning radius
        BRAKE SYSTEM
             Master cylinder, Wheel cylinders, Wheel brakes, Brake booster
        STEERING SYSTEM
             Steering gear, Power cylinder, Flow divider
        HYDRAULIC SYSTEM
             Hydraulic tank, Gear pump, Control valve, Lift and tilt cylinders,
             Flow regulator valve, Down safety valve
        MASTS AND FORKS
             Simplex mast, Duplex mast, Triplex mast
        SERVICE DATA
             Maintenance standards, Periodic service chart, Periodic replacement
             parts, Lubrication instructions, Special tools
        OPTIONS
              Radiator screen kit, Radiator plate-fin type kit, Elevated exhaust kit.
              Head lamp kit (installed on mast), Tail lamp upper relocate kit, etc.
You'll get 1 file (21.7MB)