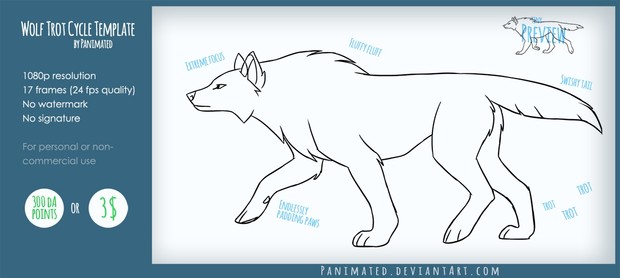 Wolf Trot Cycle by Panimated
Watch preview of animation here:

If you're a fan of wolves, you'll know that this focused trot is very characteristic of wolves. Sure, wolves run and walk too, but that intimidating trot with their head and tail held low - makes it look more like a prowling beast than a domestic dog. If you're making an animation to represent your wolf character, you want a trot-cycle!


This cheap template can be used for pretty much anything!

Reference sheets
Adopts
Gifts
Animation exercise
RPing
Individual frames can be used in comics, series and such
Reference
Anything you can imagine! If you're in doubt, ask me!

Do feel free to edit the template in any way you'd like, you could just colour it, or you could redraw the entire line-art to make it more your style, add hair, or change it's look however you'd like. It's yours to keep and do whatever you'd like to do with it!

Don't have points? Click here to purchase the template using Paypal! (3$)


This download comes as a Zipped folder, and contains the following:

-1 PSD file containing all frames as layers (arranged and ready for animating)
-1 PNG-sequence (so you can use in other programs)

If you're not sure how to use this, you can commission me to colour it for you! (20-40£, depending on the complexity of your character)


Rules:

The template can be used for any personal and non-commercial use.

You can NOT use this template for the following:
-Commissions
-Redistribution (don't sell it or give it to anyone for free, or make it available to people to download for free or for your own earnings)

You don't HAVE to credit me, but it would be super appreciated!

Thank you!
You'll get 1 file (2.2MB)
More products from Sonja "Panimated" Langskjær