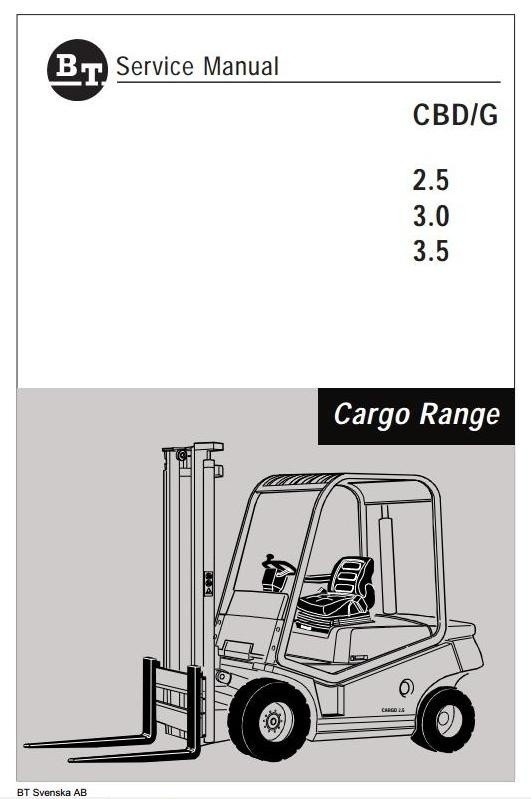 BT Cargo Range Forklift Truck CBD 2.5, CBD 3.0, CBD 3.5, CBG 2.5, CBG 3.0, CBG 3.5 Service Manual
Original Illustrated Factory Workshop Service Manual for BT Cargo Range Forklift Truck Type CBD, CBG.

Original factory manuals for BT Forclift Trucks, contains high quality images, circuit diagrams and instructions to help you to operate, maintenance and repair your truck. All Manuals Printable, contains Searchable Text and Navigation Bookmarks

Covered models:
CBD 2.5
CBD 3.0
CBD 3.5
CBG 2.5
CBG 3.0
CBG 3.5

Format: PDF, 120 Pages
Language: English

Contents:
TECHNICAL DATA
OPERATOR'S SEAT
Pedals version
Service brake
DASHBOARD
Dashboard indicator
Parking switch
Truck start up
Set of levers - Load handling
Capacity plates
ENDOTHERMIC ENGINE
KUBOTA ENGINE
Kubota engine data
Continental engine data
Oil change and engine oil filter replacement
Topping up with coolant
Air filter
Cyclone prefilter
Engine running-in
ELECTRONIC HYDROSTATIC TRANSMISSION
Example of a closed loop hydrostatic transmission
Operation of the variable displacement pump with axial pistons
Operation of the electronic hydrostatic system
Description of the main functions
HYDRAULIC DIAGRAM
HYDROSTATIC PUMP
HYDRAULIC MOTOR
HYDROSTATIC TRANSMISSION MAINTENANCE
Replacing the filter and changing the transmission oil
BRAKES
Diagram of the service brake and the parking brake systems
Checking the service brake
Releasing the brakes for towing of the truck
ELECTRIC SYSTEM
Battery
Electric components
Fuse holding panel
Engine actuator
Potentiometer and microswitches
Rotary / Linear potentiometer
Wiring diagrams
MENUS AND PARAMETERS FOR THE TCS SYSTEM
CALIBRATION
Calibration and first start up of the transmission system
DISPLAY
PUMP CUSTOMIZED
ENGINE CUSTOMIZED
FAULT DETECTED
INFORMATION / PH PARAMETERS
EPROM RESET
Troubles occuring while calibrating
System faults and failures
Troubleshooting
WHEELS / TYRES
Safety of wheels and rims while using the truck
STEERING UNIT
Steering control
Steering axle
Bearings adjustment
HYDRAULIC DISTRIBUTOR
MASTS
Description of the cylinder components
Cylinder inspection procedures
Lubrication
Installation checks safety specifications
Safety limit stops of the fork mounting carriages
Chains inspection
Fork inspection
LIFTING THE TRUCK
Hooking points
TABLES
Table for oil and grease specifications
Table for the truck maintenance during the running-in stage
Table for the maintenance schedule.
You'll get 1 file (6.5MB)