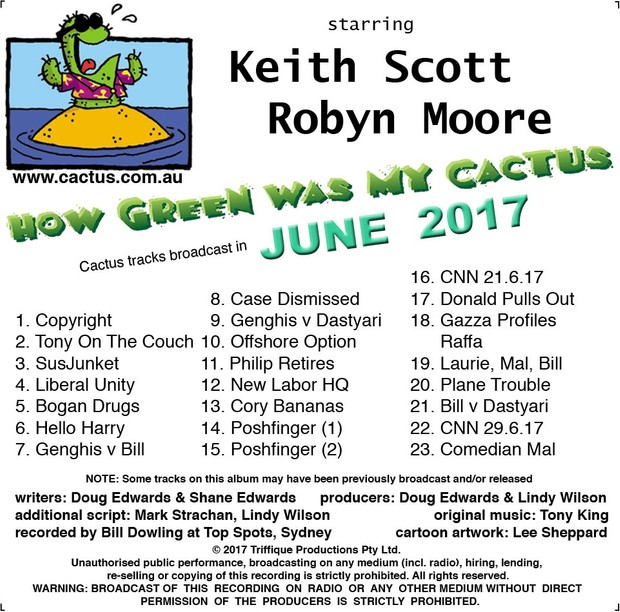 CACTUS - JUNE 2017
DESCRIPTION
CACTUS - JUNE 2017
TRACKS
1. Copyright: All material downloaded is copyright.Unauthorised public performance,broadcasting on any medium (including. radio),hiring,lending,re-selling or copying of this recording is strictly prohibited.All rights reserved. ©2016 Triffique Productions Pty Ltd
2. TONY ON THE COUCH: Ex-PM Tony Abs visits a psychiatrist to discuss a colleague, Malcolm Talkbull who, according to Tony, is such a nut that he's been banned from most school canteens.
3. SUSJUNKET: Hey politicians! Worried about avoiding the new travel expense rules?! Then worry no more! You need Susware's new travel consultancy service, SusJunket!
4. LIBERAL UNITY: Malcolm Talkbull convenes a meeting of his Liberal Party to re-establish unity. It's a very successful strategy...apart from the barrage of shoes in Mal's face.
5. BOGAN DRUGS: Davo Bogan questions the point of drug testing the unemployed when he can't afford drugs on his unemployment payment.
6. HELLO HARRY: Prince Harry is welcomed to our shores by famous locals such as ex-PM Tony Abs, Pauline Hatful and Shane Warne.
7. GENGHIS v BILL: Talkback radio genius Genghis Porkbun can't remember the name of the Flopposition leader Bill Curly. Boring Bill is so easy to forget that his nickname is Password.
8. CASE DISMISSED: Judge Cranky tries a professional footballer who faces a long list of charges. In fact Judge Cranky hasn't seen such a long list since she went shopping for makeup.
9. GENGHIS v DASTYARI: Radio talkback guru Genghis Porkbun says Scam Dastyari taking money from the Chinese can mean only one thing: two hours later he'll want more.
10. OFFSHORE OPTION: Mal Talkbull follows up his idea to have all our army uniforms made in China with another brilliant plan – he'll have all our soldiers made in India.
11. PHILIP RETIRES: While dining with Prince Harry and his tv star girlfriend Meghan Sparkle, Prince Philipoussis demands that Queen Bessie give him his 100th birthday telegram four years early.
12. NEW LABOR HQ: With Mal Talkbull's government tearing itself apart all by itself, Labor leader Bill Curly decides to move his Party headquarters to Bali until the next election.
13. CORY BANANAS: Senator Cory Bananas believes that same-sex marriage will lead to marriage between humans and animals. Cory also uses laxitives to clear his head.
14. POSHFINGER (1): Mal Talkbull (alias Poshfinger) employs James Bond to investigate Chinese political donations. James used to be 007 but now his Visa says he's 457.
15. POSHFINGER (2): Mal Talkbull employs James Bond because he is worried that Chinese political donations may destroy the fabric of our democracy while improving the fabric of our politicians' suits.
16. CNN 21.6.17: Sandra Silly with the news, Big Gazza with sport, and showbiz guru Richard Richard wishes that Tom Cruise, the star of The Mummy, would come around and unwrap him.
17. DONALD PULLS OUT: President Donald Dump has pulled out of the Paris Climate Change Agreement because it will affect jobs in the US. That's right, saving the planet is a bad deal for America.
18. GAZZA PROFILES RAFFA: Big Gazza Roidman profiles a man at the peak of his elititude, Rafael Nadal, the greatest doyen genius tennis player ever to grace the net.
19. LAURIE, MAL, BILL: Flopposition leader Bill Curly insists that Mal Talkbull's comic impersonation of President Donald Dump included grabbing Penny Wong by the pussy.
20. PLANE TROUBLE: Cactus Airlines CEO Alan Leprechaun says he supports same-sex marriage because so many cabin crew are gay - it's the only way they can walk down an aisle.
21. BILL v DASTYARI: The Labor Party gets stuck into brother Scam Dastyari for accepting donations from a wealthy Chinese businessman, Fling Yu Loot.
22. CNN 29.6.17: News, showbiz and sport. Ex-politician Clive Parmesan reveal the secret of his dramatic weight loss, running. Mailnly from courts and angry employees.
23. COMEDIAN MAL: After his hit comedy gig at the Parliamentary Mid Winter Ball, Mal Talkbull takes his impressions of Donald Dump on the road.
NOTE: TRACKS ON THIS ALBUM MAY HAVE BEEN PREVIOUSLY BROADCAST AND/OR RELEASED.
COPYRIGHT: All tracks and material ©2017 Triffique Productions Pty Ltd. All rights reserved. All material downloaded is copyright. Unauthorised public performance, broadcasting on any medium (including. radio), hiring, lending, re-selling or copying of this recording is strictly prohibited. All rights reserved.
You'll get 1 file (46.6MB)
More products from doug_e