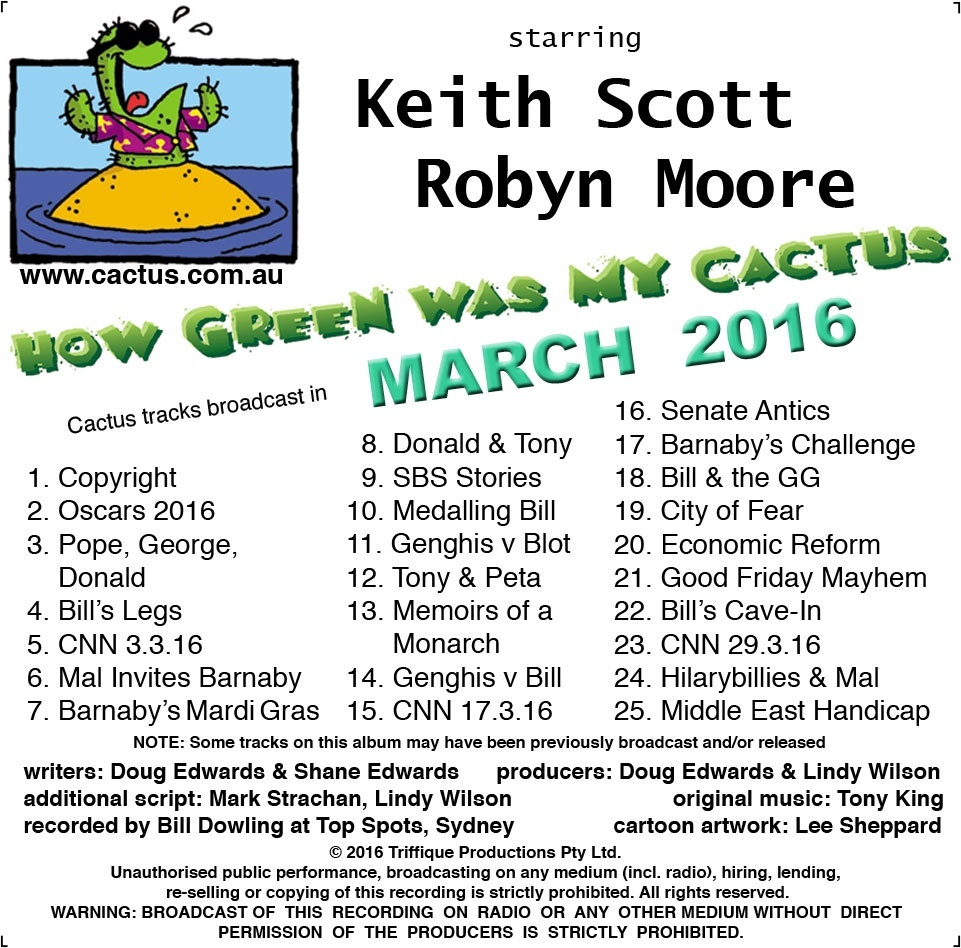 CACTUS - March 2016 (all tracks)
DESCRIPTION CACTUS - MARCH 2016 TRACKS 1. Copyright: All material downloaded is copyright.Unauthorised public performance,broadcasting on any medium (including. radio),hiring,lending,re-selling or copying of this recording is strictly prohibited.All rights reserved. ©2015 Triffique Productions Pty Ltd 2. OSCARS 2016: Richard Richard is at the Academy Award where Tony Abs looks set to win an Oscar as the star of The Martian, the story about a man who lives on another planet. 3. POPE, GEORGE, DONALD: Francis the Talking Pope is told by US presidential candidate Donald Dump that building a wall to keep out Mexicans will be easy – he'll get it from Walmart.  4. BILL'S LEGS: In a contest of witticisms with Phony Burke, Flopposition leader Bill Curly is so inept and boring that he puts his own legs to sleep.  5. CNN 3.3.16: Sandra Silly's top story: Treasurer Blot Borrowsome outlines the government's greatest economic achievement: they got rid of Joe Wobbly and saved billions. 6. MAL INVITES BARNABY: Emperor Malcolm Talkbull invites his Deputy PM Barnaby Joh to the Gay Mardi Gras to expand his mind. Well, freshen up the air in his head at least. 7. BARNABY'S MARDI GRAS: At the Gay Mardi Gras, Deputy PM Barnaby Joh is complimented on his makeup. He explains that he hasn't painted his face red, he just has a very high neck. 8. DONALD & TONY: Ex-PM Tony Abs helps US presidential hopeful Donald Dump reduce his policies to 3-word slogans so that even women can understand them. 9. SBS STORIES: SBS World News with Lip Lip Chin, right after SBS's new reality show from Zimbabwe, the Farmer Wants His Land Back. 10. MEDALLING BILL: Flopposition leader Bill Curly is excited by the latest opinion poll. He's now equal in popularity with Cardinal George Pell. 11. GENGHIS v BLOT: Radio talkback genius Genghis Porkbun gets stuck into Treasurer Blot Morrison, suggesting he'll have the country in more debt than the Vatican Compensation Fund. 12. TONY & PETA: In the Parliamentary Bar, ex-Captain Tony Abs and his ex-Chief of Staff Peta Medlin attack their successor Malcolm Talkbull, snagging his cravat withn a swizzle stick, the cads. 13. MEMOIRS OF A MONARCH: On the 10th anniversary of the Melbourne Commonwealth Games, Queen Bessie of Buckinghuge Palace recounts her run-in with PM John Hobbit's wife, Gillette. 14. GENGHIS v BILL: Talkback radio genius Genghis Porkbun can't remember the name of the Flopposition leader Bill Curly. Boring Bill is so easy to forget that his nickname is Password. 15. CNN 17.3.16: The top story: Tony Abs says it's obvious he didn't leak documents damaging to Malcolm Talkbull because he's always said that Malcolm is not worth leaking on. 16. SENATE ANTICS: Order in the House features Senators Bob Knob, Glenn Brick-With-Eyes, Jacqui Tacky, Eric A'Putz, Mathias Cornamegger, Dim Wang, Sarah Handsome-Rack and Attorney General George Bigot.  17. BARNABY'S CHALLENGE: Deputy PM Barnaby Joh vows to protect us against the Chinese and their cash, insisting that foreign investment money is not worth the bamboo it's printed on. 18. BILL & THE GG: Labor leader Bill Curly asks Governor General Sir Peter General to call an election. Sir Peter is quite tipsy because he wants to represent the Royal family accurately. 19. CITY OF FEAR: Another gangland hit in Melbourne. Or was it? Maybe it was simply a weekday with no football, therefore life had no meaning for the people so they started shooting each other. 20. ECONOMIC REFORM: Emperor Malcolm Talkbull blames the previous government for the enormous deficit. Unfortunately he doesn't mean the last Labor government, he means the Abbott government. 21. GOOD FRIDAY MAYHEM: Cactus News super-gob Mark Mayhem interviews people on the meaning of Good Friday in these dire days of terrorism and intolerance and Kardashians. 22. BILL'S CAVE-IN: Flopposition leader Bill Curly re-enacts the Beaconsfield mine disaster, trying to regain the popularity it brought him as spokesman for the trapped miners. 23. CNN 29.3.16: News about Clive Parmesan, Rupert Murd and Rugby League player Mitchell Pissed. And Andre Rieu cancels his world tour because of ill health. He makes everyone sick. 24. HILARYBILLIES & MAL: Mal Talkbull discusses the Middle East with US presidential hopeful Hilary Climax. Ex-President Bill Climax sits in the corner fixing the zipper in Hilary's trousers. 25. MIDDLE EAST HANDICAP: The next race on the card is brought to you by Weapons-R-Us. If you're thinking small arms, big arms or no arms at all, think Weapons-R-Us. NOTE: TRACKS ON THIS ALBUM MAY HAVE BEEN PREVIOUSLY BROADCAST AND/OR RELEASED. Copyright: All tracks and material ©2015 Triffique Productions Pty Ltd. All rights reserved. All material downloaded is copyright. Unauthorised public performance, broadcasting on any medium (including. radio), hiring, lending, re-selling or copying of this recording is strictly prohibited. All rights reserved.
You'll get a 48.4MB .ZIP file.
More products from doug_e