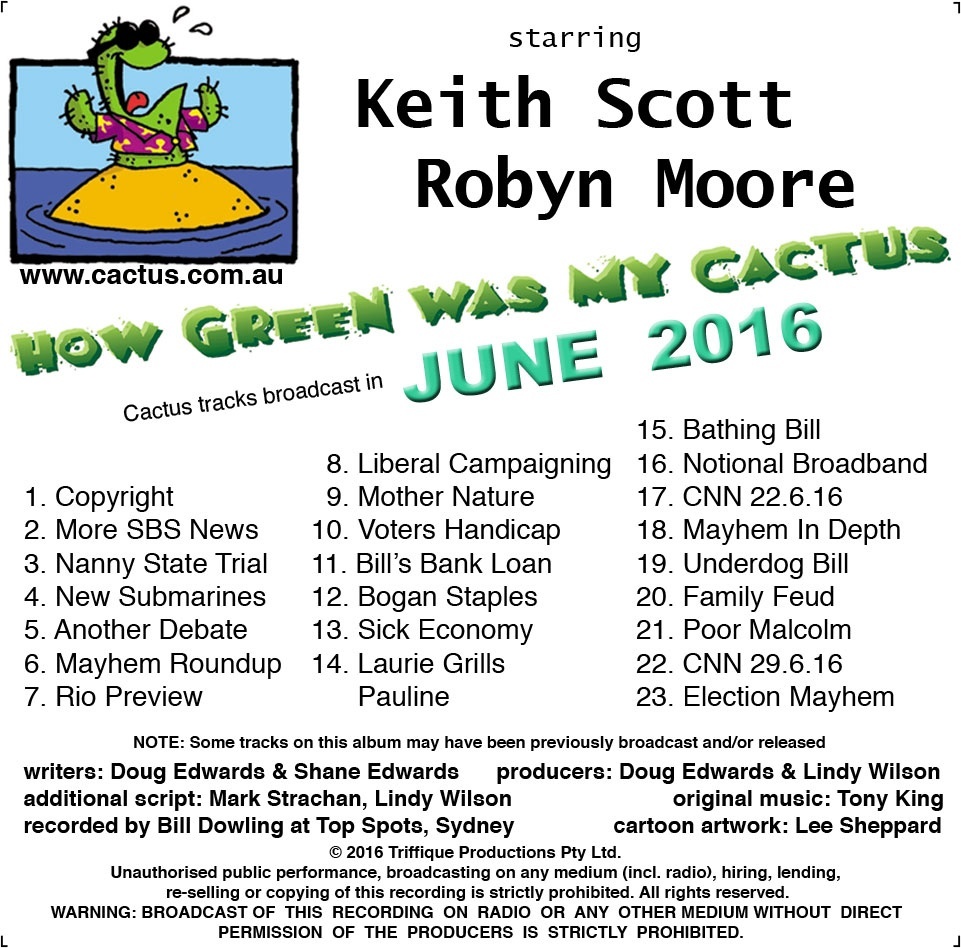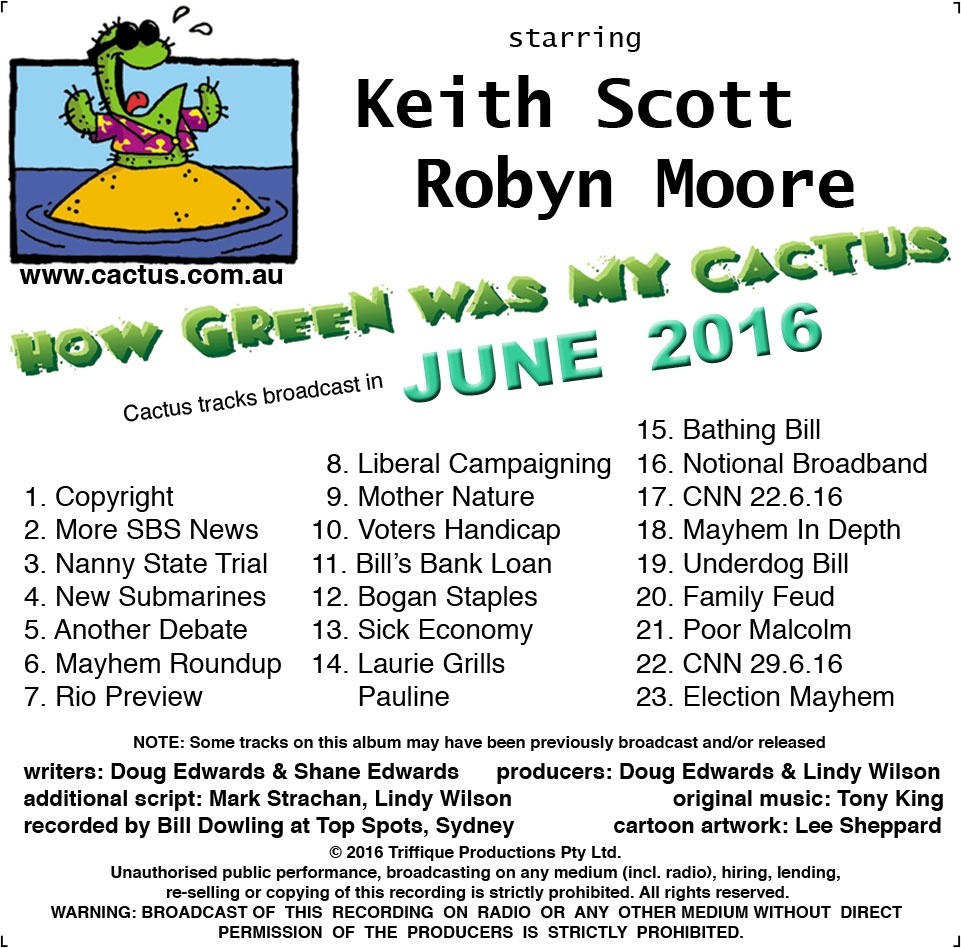 CACTUS - JUNE 2016 (all tracks)
DESCRIPTION
CACTUS - JUNE 2016 TRACKS 1. Copyright: All material downloaded is copyright.Unauthorised public performance,broadcasting on any medium (including. radio),hiring,lending,re-selling or copying of this recording is strictly prohibited.All rights reserved. ©2016 Triffique Productions Pty Ltd 2. MORE SBS NEWS: Lip Lip Chin with SBS News, followed by our regular comedy series set in the desert of Dubai, Everybody Loves Raybans. 3. NANNY STATE TRIAL: Judge Cranky hears a complaint from Senator David Goosehelm that the nanny state we live in won't let us carry guns to keep us safe from people who carry guns. 4. NEW SUBMARINES: Emperor Mal Talkbull, Judas Bishop and Prissie Pyne inspect a French submarine. The Captain mistakes Prissie Pyne for a poodle. 5. ANOTHER DEBATE: Mal Talkbull and Bill Curly go head to head, arguing about whose hole is biggest and blackest. They are interrupted by Deputy PM Barnaby Joh and Senate hopeful Pauline Hatful. 6. MAYHEM ROUNDUP: Cactus News supergob Mark Mayhem talks to Treasurer Blot Morrison, Shadow Treasurer Owen Bowen, Greens spokes-pixie Sarah Handsome-Rack, Seantor Nick Sennapod and alleged Environment Minister Dreg Hunt. 7. RIO PREVIEW: Sandra Silly & Big Gazza Roidman preview the Rio Olympic games. Gazza is impressed with the mountain overlooking Rio, upon which is a gigantic statue of Rio's favourite son, Pele. 8. LIBERAL CAMPAIGNING: In a suburban marginal seat, a desperate Mal Talkbull pats a voter's pet rat, Prissie Pyne meets a woman with 3 teeth, and Judas Bishop is goosed by a schoolboy. 9. MOTHER NATURE: Leigh Nails, the host of 7.30, examines global warming and climate change. Is it really as bad as they say, or is Mother Nature just an attention-seeking old whinger? 10. VOTERS HANDICAP: Stand by for the Voters Handicap, ladies and gentlemen. The course is looking as picture because for the last few weeks it's been raining nothing but horse crap. 11. BILL'S BANK LOAN: The manager of the Cactus Island Bank, Mr Leech, is surprised when a new customer, Bill Curly, wants to borrow 33 million dollars to fund an election campaign. 12. BOGAN STAPLES: Davo Bogan is upset that he's been stopped from smoking on the footpath outside CentreLink. 'How do I calm my nerves when I'm tryin' to get my story straight?' 13. SICK ECONOMY: Malcolm Talkbull visits the economy in the intensive care ward of Saint Cactus Public Hospital, only to see the hospital rats passing around napkins. 14. LAURIE GRILLS PAULINE: Laurie Bloats grills One Nation Party leader Pauline Hatful, discovering that Pauline gave up her fish shop business because she's allergic to blackfish, jewfish and yellowtail. 15. BATHING BILL: Flopposition leader Bill Curly is happy with his performance in the opinion polls. In fact he hasn't been happier since he bought slippers that have a pen holder. 16. NOTIONAL BROADBAND: Malcolm Talkbull, Prissie Pyne and Mathias Cormanegger explain their innovative slow high-speed national broadband network.  17. CNN 22.6.16: Sandra silly reports that a desperate Brazillian Olympic Committee is offering medals to anyone who turns up for the Games. 18. MAYHEM IN DEPTH: After talking to Senators Jacqui Tacky and Nick Xenophon, and to senate hopeful Pauline Hatful, reporter Mark Mayhem wants to cut his ears off. 19. UNDERDOG BILL: Flopposition leader Bill Curly and his deputy Tanya Plibersexy check out Labor's new ad campaign at their advertising agency, Ferrari Leech Ferrari. 20. FAMILY FEUD: The Liberal family and the Labor family appear on the tv show Family Feud. Labor's Bill Curly thinks the buzzer is a Bundy machine, presses it and goes home. 21. POOR MALCOLM: The ABC's 7.30 host Leigh Nails talks to Emperor Malcolm Talkbull about the unbelievable poverty Mal suffered in his early life when he was a swaggie. Unbelievable is right. 22. CNN 29.6.16: Sandra Silly with news, Richard Richard with showbiz and Big Gazza with sport. The top story: Scientists warn that global warming may soon become bad enough to thaw out Peta Credlin. 23. ELECTION MAYHEM: Cactus News super gob Mark Mayhem talks to a conga line of parliamentary suckholes, including Justice Party leader Derryn Livershot and Hatter Party MP, Mad Bob Hatter. NOTE: TRACKS ON THIS ALBUM MAY HAVE BEEN PREVIOUSLY BROADCAST AND/OR RELEASED. Copyright: All tracks and material ©2015 Triffique Productions Pty Ltd. All rights reserved. All material downloaded is copyright. Unauthorised public performance, broadcasting on any medium (including. radio), hiring, lending, re-selling or copying of this recording is strictly prohibited. All rights reserved.
You'll get a 44.3MB .ZIP file.
More products from doug_e