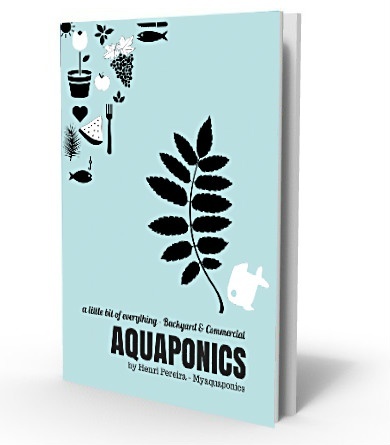 Backyard and Commercial Aquaponics - A Little Bit of Everything
The book is targeted mainly at the aquaponics farmer or aquaponics enthusiast.


In the book we share some of our secrets:

For example, did you know that in larger aquaponic systems, fish alone are not enough to produce the required nutrients for the plants? We tell you what else has to be supplemented, including the right dosages.

How many fish should you stock in an Aquaponics system? The general rule of thumb of "XX" Kilograms of fish per 1000 litres just doesn't cut it. Its more scientific than that, and we supply the formulas for you to calculate the correct numbers.

Fish, plants and bacteria all have different needs, so what exactly is the perfect happy medium for all of them ? We have taken a complicated subject and made it easy to understand through the use of infographs and illustrations.

Confused about what type of aquaponics system is best for your needs? Don't worry, we go into detail on the 4 main types of aquaponic systems, highlighting advantages and disadvantages for each.

What fish is best for your environment, and can you realistically grow fish to 1KG in 12 months in an aquaponics system?

What are the most popular plants for aquaponics? We give you a list, going into detail on each variety. We also touch on how to avoid pests and diseases and how to plant from seed.

Aquaponics can seem complicated to the beginner, but this book breaks it down into easy to understand sections, packed with information, photos, illustrations and video links.

Whether you are looking at starting an Aquaponics system, or you already have a system but are considering going commercial, then this book is for you.
You'll get 1 file (8.2MB)