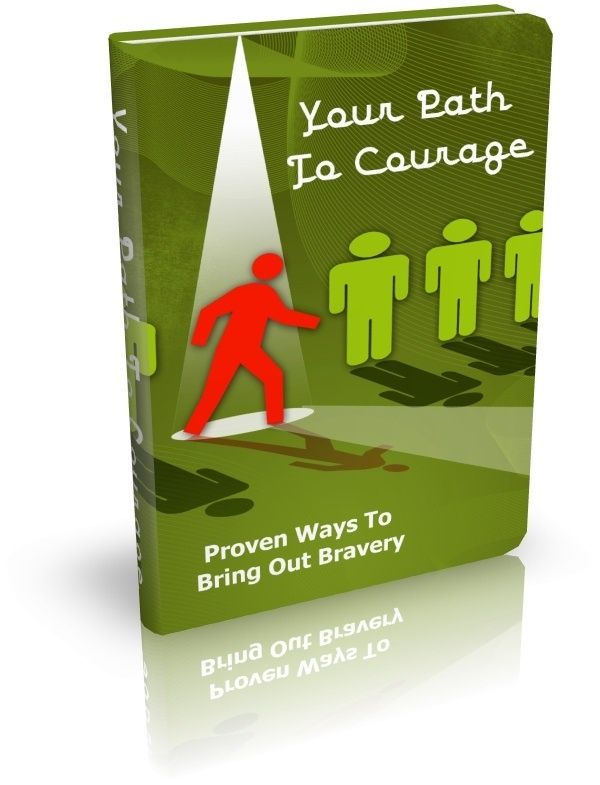 Your Path To Courage
"Get All The Support And Guidance You Need To Permanently STOP Being Fearful And Face What's That's Holding You Back!"

This Book Is One Of The Most Valuable Resources In The World When It Comes To Proven Ways To Bring Out Bravery!

"This Book Below Will Show You Exactly What What You Need To Do To Find Your Path To Courage!"

As a person just like you who has struggled with letting fear overpower me, I have searched high and low to find the best strategies to fix this problem and I am fully qualified and equipped to help you put an end to the lack of healthy bravery!

Staying afraid of things we don't have control over is unhealthy fear, a survival mechanism failed. Sometimes this can be healthy and normal. However fear has become rampant when it never leaves us. It becomes a shadow, forever alongside you.
Are you ready?

"Introducing… Your Path To Courage!"

This powerful tool will provide you with everything you need to know to be a success and achieve your goals in life.

With this product, and it's great information on beating unhealthy fear it will walk you, step by step, through the exact process developed to help people put an end to lack of healthy bravery.


Who Can Use This Book?

- Internet marketers

- Network marketers

- Life Coaches

- Personal Development Enthusiasts

- Self Improvement Bloggers

- Web Publishers

- Writers and Content Creators

And Many More!


In This Book, You Will Learn:

*The Meaning Of Being Frightened

*What You Might Fear

*Exposing Your Fears

*Get Moving

*Use Affirmations

*And so much more!


Your License: Personal use rights only. You can not resell this.


This book could be the most important book you will ever read. Make no mistake about it because if you do not equip yourself with the right knowledge, you will get into a LOT of trouble and waste tons of money (even more than the price of this book by 10 to a hundred times, in fact!)

Get this... it's yours for only $0.99.


P.S. You've got nothing to lose in this investment. You will only miss 100% of the shots you don't take. Don't make the same mistake of those who close this page and miss out on a tremendous opportunity!
You'll get a 1.2MB .PDF file.
More products from Smart Life Skills