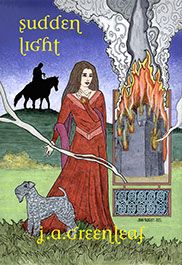 Sudden Light, by J.A. Greenleaf
The English army attacks Donegal Castle in Ireland in 1589. The few defenders fight vaingloriously but they are overwhelmed by the English in numbers, weaponry and surprise. Maire and Uilliam are a young, married couple who try to fight off the invaders but are lost when the castle burns. In 1666, Mary Goode is a young girl indentured to the King's Baker. Smelling fire late one night, she sounds the alarm. It is the start of the Great Fire of London. Maire is reincarnated as Mary, but remembers nothing of her past life in Ireland--that is until she meets--and touches--an English gentleman, realizing this overweight, aged, aristocrat is the embodiment of her Uilliam! Uilliam, however, remembers nothing, with tragic consequences. Throughout the next four hundred years, Uilliam and Maire live many other lives, sometimes near in age, sometimes not, and sometimes of other races. If they meet--and touch--Maire remembers all past lives, and, to her chagrin and great sadness, Uilliam has no recollection of Maire or their lives intertwining over the centuries. Borneo, the French Revolution, a clipper ship around the Horn, the American West, the trenches of World War One, the days before Pearl Harbor, crashing across the ages to the present. Maire, now Marisa, is a high-powered American lawyer and Uilliam--Bill--is an ex-convict, now charged with murder. Can she save him? Will she risk her fortune and her very life to rescue him and spirit him away? Will history repeat itself once again for these star-crossed lovers? Will Uilliam ever recognize Maire? Will they ever find one another—and happiness?
Sudden Light is the first in the Irish Lights series of three exciting novels: Rising Light and Shining Light. Rising Light has a planned publication date of June 2014, and Shining Light In October 2014.
All books ordered on this website will be hand-signed by the author, J.A. Greenleaf.
Sudden Light is published by Swordpoint Intercontinental, Ltd. Publication date May 10, 2011. Trade paperback, English language, 6x9 inches, 320 pages. Cover art by John Quigley.
You'll get a 422.2KB .EPUB file.
More products from Joseph Greenleaf