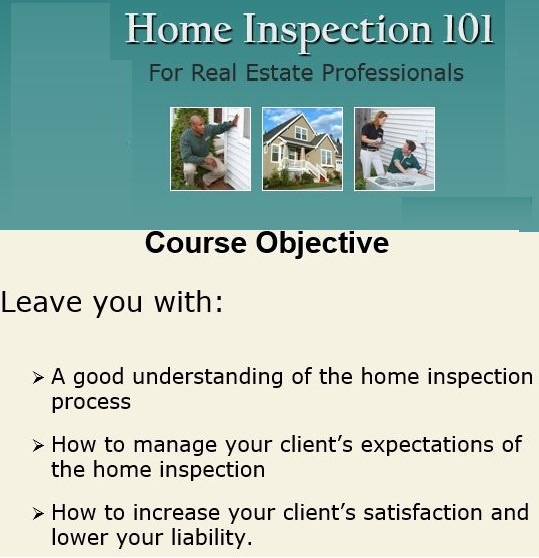 Home Inspection 101 for Real Estate Professionals Texas Version
Realtors Earn 2 CE by completing the course.

Home Inspection 101 for Real Estate Professionals Texas Version

A two hour course explaining how the home inspection fits into the real estate transaction, designed from the perspectives of the agent, the seller, the buyer and the home inspector. Topics covered in this course include liability issues, the pre-inspection agreement, standards of practice, report formats and the buyers and sellers' expectations. The goal of this course is to raise the agent's understanding of the home inspection process, and the role of the both the agent and the inspector.

Home Inspection Intro/
 
Inspection completes the sale, Goals of inspection
Understand how a professional home inspection helps facilitate the sale.
 
 
Informed buyers, inspection documents, report basics
Know how an inspection and inspection report answers the buyer's questions, allows them to make the decision to move forward.
 
 
Inspector/characteristics/ insurance
Understand that a true professional inspector will be trained, experienced, insured and have communication skills
 
 
What a professional inspector should/should not do
Know about the industry standards of practice/ code of ethics and how and why inspectors adhere to the standards. 
 
 
Educate The Buyer/
 
When to order inspection, explain scope of inspection, realistic expectations
Learn that buyers will gain maximum benefit from inspections when they better understand what the inspection is and isn't, and that no house is perfect--all homes require some maintenance.
 
 
Preparing The Seller/
 
Inspector needs access, what happens after the inspection
Understand that the seller should know that inspector is thorough but not overly intrusive; that the inspector will leave things the way they were found before the inspection. 
 
 
Inspection: Lots and Grounds/

 
 
Grading, drainage, driveways, steps, decks
Know how rain/surface water impacts the structure.  Know how surface water of adjacent lots has impact.  Know the proper way to build/attach decks.
 
 
 
 
Inspection: Exterior/

Roofs, chimneys, siding, doors and windows, garages, pools and sprinklers,
Learn how to inspect a roof, when and how to walk a roof, proper care and maintenance of siding, proper installation and water/air tightness of doors and windows, and importance of sprinklers.

 
 
Inspection: Electrical/
 
Determining service size, over current protection, grounding, bonding, smoke detectors
Learn how size of service, service panels and subpanels are determined and their significances.  Location and significance of GFCI protection, and location and types of smoke detectors.
 
 
Inspection: Plumbing/
 
Water supply, shut offs, drains, vents, tub and shower surrounds
Learn what constitutes proper flow, pressure, venting and drainage. Learn how use of electronic testing equipment and knowledge of construction can help locate suspected leaks.
 
 
HVAC/
 
Testing furnaces for operation, temperature rise, gas leaks and venting
Learn about expected temperature rise, size and placement of ducts, gas leaks and venting of flue gases.
 
 
Testing air conditioning for operation, expected temperature drop, air flow and distribution
Learn about sizing and placement of unit, the importance of keeping the outside unit clean and how temperature drops are measured.
 
 
Interior/
 
Foundations, girders, I-Beams, load supports




Learn styles of construction, purpose and function of load bearing members and need for access to do the inspection.
 
 
Walls, flooring and ceiling
Deflection in flooring, and cracks around doors and windows might mean movement of foundation.  Possible causes. Some movement is normal.  
Kitchens and Baths
Most expensive rooms, the rooms with much of a home's appeal. What an inspector evaluates.
After the Inspection
Reviewing inspection findings with buyer. (Students to review sample inspection report summary and findings).
You'll get a 4.9MB .PDF file.
More products from ESA Environmental Solutions Association