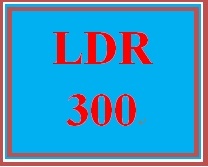 LDR 300 Week 4 Project Status Report
Entire Course Link
https://zh.scribd.com/document/340327850/Uop-Tutorial
  LDR 300 Week 4 Project Status Report 
Write a 700-1000 word project status report for the Vice President of Human Resources which:   
Highlights the progress made for completing each deliverable and work/research that needs to be to be accomplished by Week 5  
Identifies specific questions and/or areas of concern that need to be addressed in order to complete the plan  
Reference and Cite the text and a minimum of two additional references
Format your paper consistent with APA guidelines.
Click the Assignment Files tab to submit your assignment.
Submit an electronic copy of the feedback from the Plagiarism Checker.  
You'll get a 64.5KB .DOC file.
More products from UopTutorials