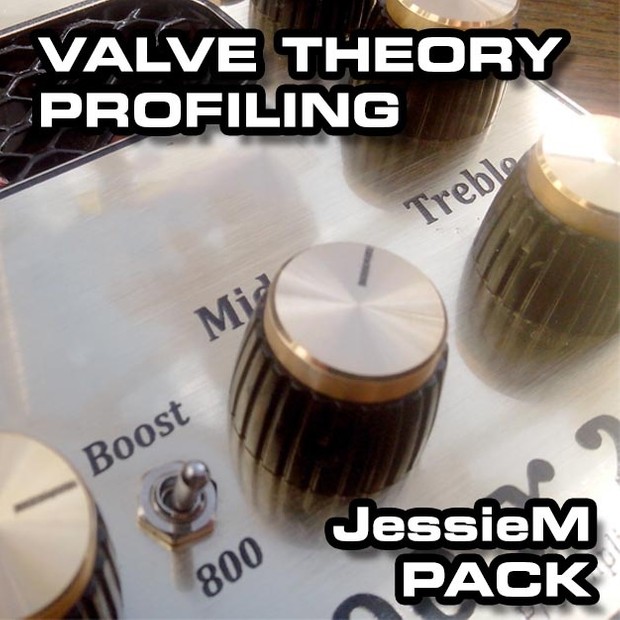 Jessie M profile pack for the Kemper profiling Amplifier
the Jessie M pack - 26 rigs and 20 direct profiles 
---


this time we tried to reproduce the great tones you get from my all time marshall favorite amp, the JCM800. I used a boutique preamp based on the JCM800 preamp to gather all the good tones I could get, matched them with my own JCM cab , and here is the result.

The rigs are tagged & sorted in reference of the guitar pickup used during the profiling.

SC profiles matches single coils and splits
HB match Humbucker guitars
P90 fits P90, P94 & soapbars.

Most rigs have an EQ and a compressor to get a cleaner or mix ready tone if needed (live & recording). There are lots of stomps available on all profiles, so do not heistate to engage them.

Be sure to disengage all locks, especially on verbs, since my reverb settings are really part of my core tones.

I did provide the Direct input profiles, for just for reference , they are not volume matched and pretty raw.

I did also include all my demo from the other ATM packs (10+ profiles)


---

Here is the content of the pack : 26 profiles and 20 direct input profiles



JessieM.SC.clean
all around clean with classic FX , suits HB for jazz tones with a tad of gain.

JessieM.SC.clean.dynamic
a great clean with lots of dynamics, gain course is very good up to 6. With the chorus and dist, you'll easily achieve jazz rock tones (boogie style). Handles HB well.

Mr DAKOTA BASS SIMv6
I put this one in all my pack, in order to have a bass sim available when needed. I enhanced the usual one with a widener and two dist. pedals in the style of Lemmy.

JessieM.P90.clean.funk
best used on a semi hollow, but fits other PU well in neck, mid & bridge position. classic FX for funk : phaser and wah, as well as a specific space FX for a different mood. Huge gain reserve on this one , up to 6.

JessieM.HB.clean
Specific HB clean, it's not that easy to have a good clean tone with HB, this one keeps clarity and a warm attack on both neck and bridge PU. Trem and widener available for a larger rhythm tone. Interesting gain range.

JessieM.Gongelizer.soft
the softer clean version of the great gongelizer, fits 12 string parts and arpeggios well. takes some time to master because of the un-perfect tracking. Features some cool organ vibes on 3 to 4 strings chords.

JessieM.P90.crunch
a typical breakup tone with some gain reserve. Try the harm FX for some fat bass licks.

JessieM.P90.drive.soft
a cool driven crunchy tone, great for blues and dirty rhythm tones in the fender style. Best suited for SC and P90, might be a bit too dark on HB.

JessieM.HB.crunch.champ
This one mimics an cranked fender champ with the right settings for a HB guitar. The Harm stomp in slot A features a 12 string sim for Led Zep stuff.

JessieM.HB.blues
Classic dirty blues tone on the dark side with some cool FXes like the dist lead stomp and a few trem & vibe. great gain range from 0 to 7 . Fits SC very well too

JessieM.HB.crunchier
this one is mainly a dist lead platform with 4 dedicated stomps to have all sorts of colors. Great delay for leads

JessieM.P90.lead.soft
I sometime use a very clean lead with just a tad of drive.Clean up very well. Lots of different dist pedal too.

JessieM.HB.drive
Typical JCM marshall drive ready for power chords and all rhythms (chords, arp ...) since this one maintains lots of clarity and string separation on HB and SC. best kept on the original gain setting and slightly above. Good for SC too.

JessieM.SC.crunchier
a dirtier version of the crunch setting, ready for classic rock.Great pads with the Chorus stomp engaged . May sound muddier on HB so it's best to use the HB version.

JessieM.honky LesPaul.lead
Very special one, best used for on SC and P90 leads, since it's lighter and more mix ready than the non lead version. Clean up very well on guitar vol. pot.

JessieM.P90.drive.crunchy
more drive than the previous P90 rigs, more emphasis on the mids. A dirty vibe.

JessieM.SC.drive
Use this one when a cleaner string separation is needed on a high gain dirty profile. A great guitar vol pot range since is cleans up very well. best used on SC and P90 for early Motorhead guitar tones for instance.

JessieM.Gongelizer.hard
huge and majestic tone, a very specific harmonized tool. I would say this is almost a new instrument. I use it very often, for bass leads on lower E , A and D strings. Fills a mix perfectly with some very organic fee. One of my personnal favorite of this pack.

JessieM.SC.crunch.Jimi
This one mimics Jimi's tone , you'll need a strat :) I did set up two different wahs, after and before dist pedals (use only one). The 1st dist is more acid 'purple haze' while the 2nd is more rounded 'Axis bold as love solo'. You'll also have two different rotovibe settings to play with. Great cleanup with guitar vol. pot and great pick sensitivity on attack. Gain range is great between 0 and 10.

JessieM.honky LesPaul
my favorite lead tone of the pack, specifically tailored for my P90 semi hollow, but fits splits and SC pretty well too. Not that good on HB. Dial up the tone pot of you guitar in its sweet spot (around 5 for me) to get that instant classic LesPaul creamy lead tone. May be a bit too dark on lots of guitars, so adjust definition if needed.

JessieM.HB.crunch.lead
mix ready dirty lead tone for my HB guitars. Lots of dist pedals to play with, for 4 different lead colors.

JessieM.HB.boogie.lead
a lot more tighter than the previous one and a very boogie vibe on this one. Sure gets a lots of usage for my leads on both bridge and neck pickups.

JessieM.HB.lead
this one is between the dirty and tight settings, like a good marshall lead tone, great for SC pickups too.

JessieM.HB.higain
cranked JCM heavy rhythm setting, very straight hard rock tone. Boost on stomp A adds more clarity and dirtiness. Light chorus on X stomp allows some 80's style power chords. Cool dirty vibe on SC pickups too, especially with the rect stomp in D and delay engaged for trebly leads.

JessieM.SC.heavy
Muddy on HB pickups, so use it only on SC & P90 where it really shines on both rhythm and lead, as well as riffs. Cleans up well on guitar vol. pot.


JessieM.fuzz platform
use the main front EQ and Gain to tailor your fuzz to your needs, as well as the combination of stomps B , D and X for all kinds of sonic mayhems.


---

All trademarks and names are trademarks and names of their respective
owners, which are in no way associated or affiliated with valve theory
profiling. These trademarks are used solely for the purpose of
describing a certain amplifier, speaker, mic or a pedal during profiling
and trying to produce similar sound with profile packs
You'll get 1 file (305.0KB)