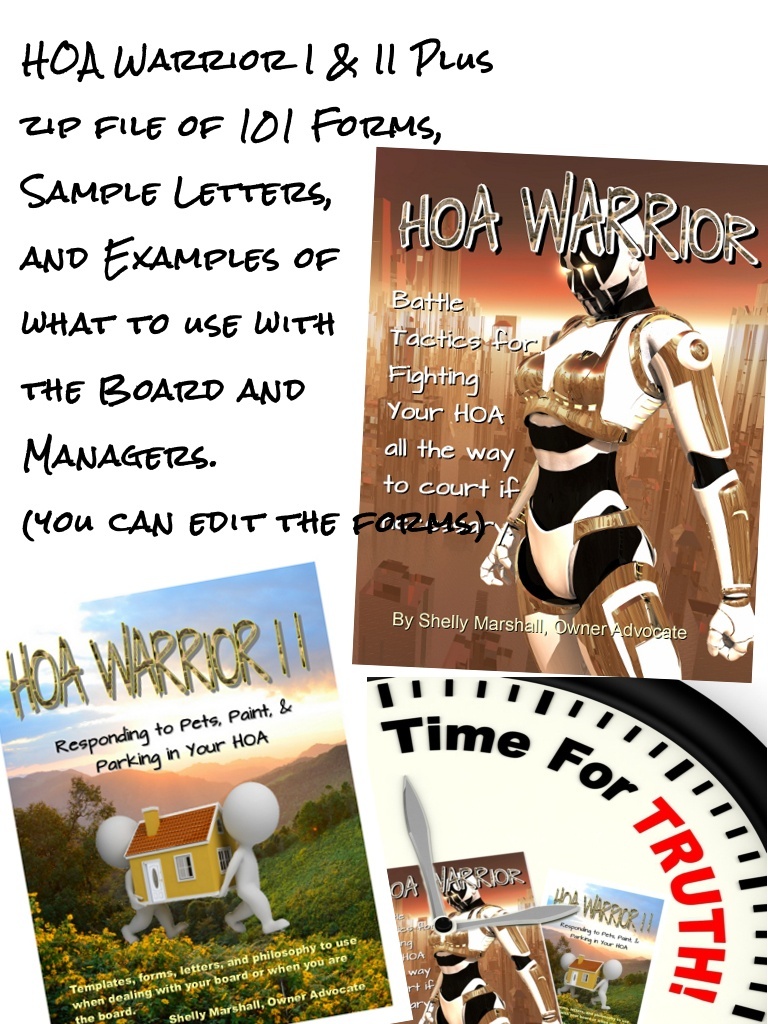 SAVE with BOOKS 1 & 2 in Homeowner KIT (Both Reports & 101 Forms in Zip File)
**Updated August 2017 with current links for State and Federal Codes as well as Canadian Code.** Ever wonder what exactly you say in a dispute letter? How to ask for a waiver from your HOA board? How to file a complaint with a state agency?
Ever wonder how to be a good Trustee? How to create a form for your neighbors? What to tell your attorney and what advice to actually take from your attorney---or what advice to discard?
Need to find your state laws dealing with Associations and Condominiums? These books list all the state websites that deal with HOA law and you can look yours up--it includes Canada and our territories.
This Kit with both books answers these questions for you. You will receive
1) Book 1. HOA Warrior (with 20 tactics to fight your board)
2) Book 2. HOA Warrior II with explanations on how to use the 101 forms and sample letters
3) All the forms and templates from Book 2 saved in a .doc format so you can edit them in a word program.
The KIT is downloaded in a ZIP file which you will have to open with a zip (data compressor) program. Most computers come with a free version or you can download one from the internet--I use
http://www.peazip.org/
A quick search for a file decompressor program will give you options.
Buy the complete kit now.
You'll get a 11.2MB .ZIP file.
More products from Click Globe to Return