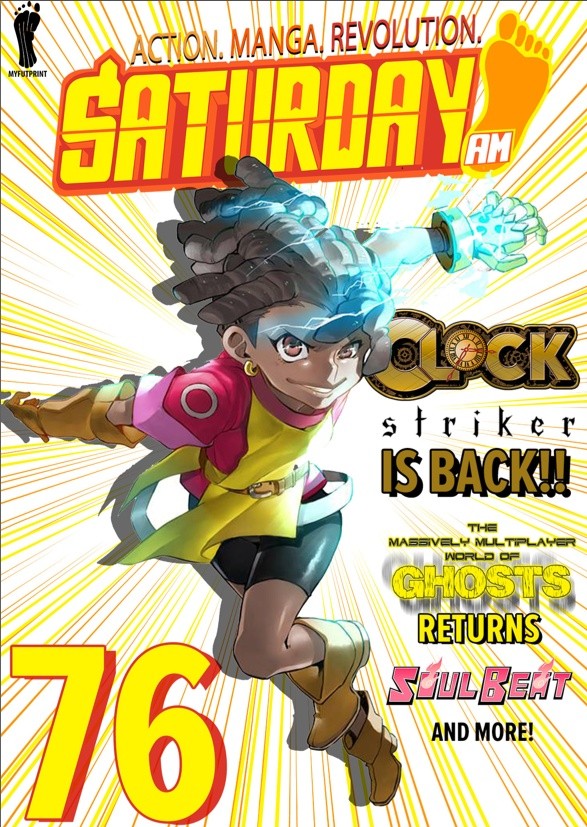 Saturday AM #76
SPECIAL $.99 or pay what you want!

Our long-running, popular, global anthology is BACK and what better way to announce our return than with our STAR character, CLOCK STRIKER!


The story continues for shonen manga's 1st black female heroine and lead character!

Also, MUTTON CHOP -the ultra fun, funny animal comic returns as does SOUL BEAT - the funk-tastic new series that has been a HIT since it's launch in issue 66!

More firsts! MMWOG, our first serialized LIGHT NOVEL, returns with a thrilling CHAPTER TWO! This Yu Gi Oh! style adventure not only features a thrilling story and original art BUT it also, stars manga's first INDIAN-AMERICAN lead character!

And don't forget, get ready because as we begin to countdown to issue #1 of our ADULT MANGA ANTHOLOGY, Saturday PM, -- our next issue of AM (which you'll receive mid next week by 12/13) will include a special SNEAK PEEK at the digital magazine exclusively!

Now, stop what you're doing and GET TO READING! Unless, you're in a car or something. Then that would be bad if you're driving. Don't do that. PULL OVER, turn on your hazards and START READING!
You'll get 1 file (78.8MB)
More products from Saturday AM