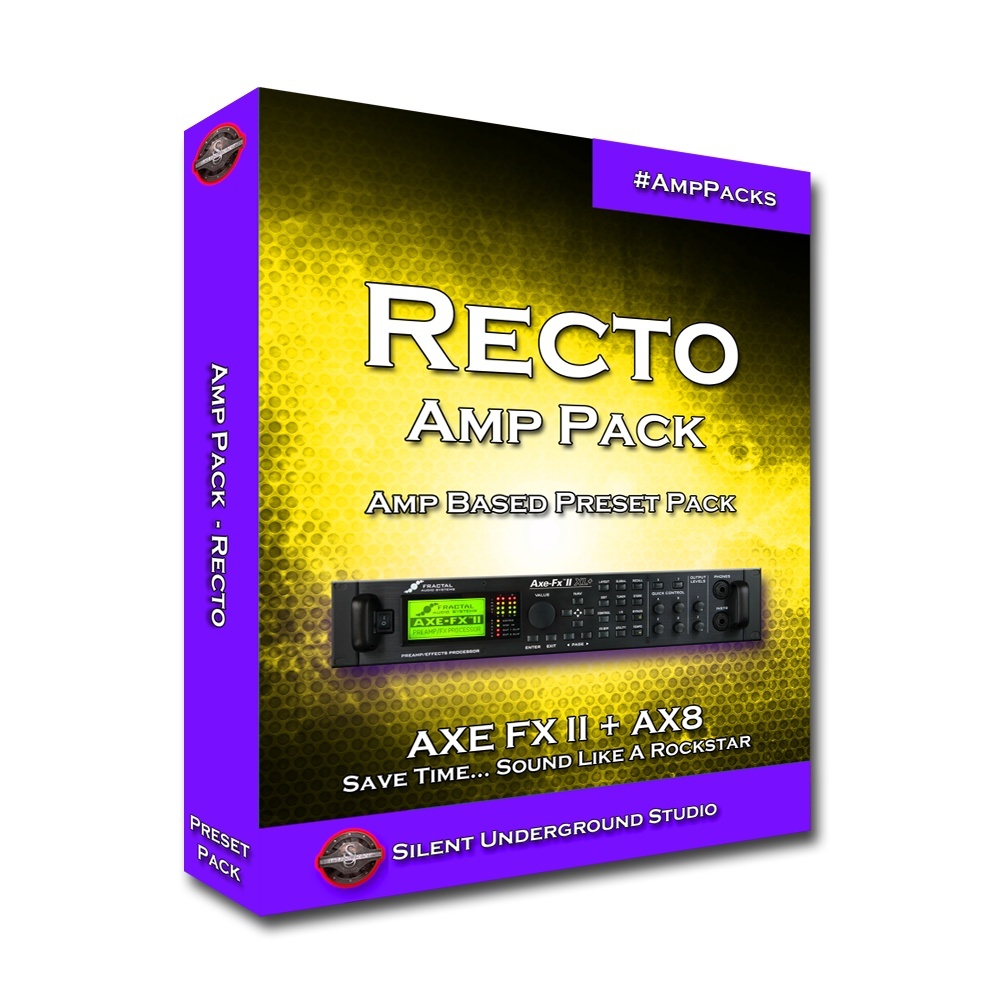 RECTO Amp Pack (FAS)
RECTO Amp Pack
7 x 4 scene Rectifier based amp models

Set up for: Direct to DAW, Studio monitors, FRFR, Direct to FOH use
Firmware: NEW Quantum 9 UPDATE
Model: AXE FX II, AXE FX II XL, AXE FX II XL+, AX8
Cabinet IRs: Uses a blend of 2 USER Cabs and 1 Fractal internal Cab
Scene Switching: 4 scenes - Clean, Crunch, Rhythm, and Lead.

Pack includes:

Presets:
Recto 1 Org Mdrn.syx
Recto 1 Org Vntg.syx
Recto 1 Red.syx
Recto 2 Org Mdrn.syx
Recto 2 Org Vntg.syx
Recto 2 Red Mdrn.syx
Recto 2 Red Vntg.syx

Cabinet IRs:
This AMP Pack includes 2 FREE Cabinet IRs that are taken from a Mesa Boogie Rectifier 4x12 straight front cabinet Loaded with: 1 x Celestion Greenback, 1 x Celestion GT75 and 2 x Celestion Vintage 30s. Only the Greenback and GT75 speakers were recorded for this pack.

The Cabinet Block in each preset loads with 1 internal Fractal Recto Cab and 1 User cab. The Cabinet Block X/Y switch can be used to toggle between the 2 combinations in any of the presets and can be saved for any scene.

PLEASE load the custom Cabinet IRs into USER Cab Slots 53 and 54 before using these presets.

Switching:
All Presets in this pack use 'Scene Switching' to change amp tones through Clean, Overdrive, Rhythm, and Lead.

Scene 1 = Clean
Scene 2 = Overdrive
Scene 3 = Rhythm
Scene 4 = Lead

AX8 Users: We have pre-configured the switches on the AX8 so that Switch 1 through 4 control the various Scenes and switches 5 through 8 control various FX like Chorus, Reverb and Delay.

Disclaimer: Please first know HOW to use your hardware / software BEFORE purchasing our products. They are made to work in any standard AXE FX II / AX8 setup without the need for additional external processing. No refunds are given on digital products.
You'll get a 743.5KB .ZIP file.
More products from Silent Underground Studio