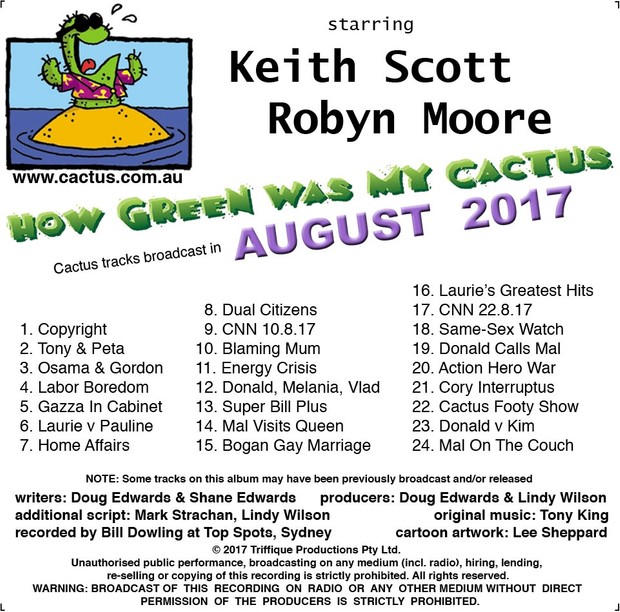 CACTUS - August 2017
CACTUS - AUGUST 2017
TRACKS
1. Copyright: All material downloaded is copyright.Unauthorised public performance,broadcasting on any medium (including. radio),hiring,lending,re-selling or copying of this recording is strictly prohibited.All rights reserved. ©2017 Triffique Productions Pty Ltd
2. TONY & PETA: In the Parliamentary Bar, ex-Captain Tony Abs and his ex-Chief of Staff Peta Medlin attack their successor Malcolm Talkbull, snagging his cravat with a swizzle stick, the cads.
3. OSAMA & GORDON: Our own homegrown terrorist leader Osama bin Wheelie tries to save his terrorism business from failure by calling in an expert, Gordon Ramsay.
4. LABOR BOREDOM: Bill Curly and his colleagues try to cope with the boredom of being in opposition. In fact if they were doing any less they'd be Malcolm Talkbull's government.
5. GAZZA IN CABINET: Big Gazza Roidman confronts Mal Talkbull's Cabinet about the proliferation of drugs in sport, fearing that the nation "is on the brick of sporting armageddonihilation".
6. LAURIE v PAULINE: The king of political journalism Laurie Leaks talks to One Notion Party Grand Wizard Pauline Hatful, our country's first ever female boofhead.
7. HOME AFFAIRS: Sunrise hosts Kochie and Mel are surprised when the Politician of the Month Award goes to Immigration Minister Peter Peter, a bit of a bastard.
8. DUAL CITIZENS: The Senate is in chaos over dual citizenship of politicians, with Lib/Dem senator David Goosehelm believing it would never have happened if everyone was allowed to carry a gun.   Order In The House with David Shortstraw.
9. CNN 10.8.17: Sandra Silly reports that tv show Better Homes and Gardens will change its name to better reflect the dangerous times we live in. It will be called Better Homes and Bollards.
10. BLAMING MUM: After Senator Matt Canaworms blames his mum for giving him Italian citizenship, Treasurer Borrowsome jumps on the bandwagon and blames his mum for the deficit.
11. ENERGY CRISIS: Ex-PM Tony Abs objects to the use of solar power because it comes from the sun. He couldn't get used to showering with sun screen on.
12. DONALD, MELANIA, VLAD: Russia's Vladimir Poothing surprises Donald Dump with a visit. Vlad got past the White House security guards by telling them that he was an assassin.
13. SUPER BILL PLUS: Super Bill (Curly) confronts Liberal Party right wingers Tony Abs and Eric A'Putz who want to print a pamphlet advising that all gay people have pimples on their bottom.
14. MAL VISITS QUEEN: Mal and the Queen discusses dual citizenship while Prince Philipoussis hangs pictures with his pyjama cord tied to the ladder for safety. What could possibly go wrong?
15. BOGAN GAY MARRIAGE: Davo Bogan is shocked to learn that gay men want to get married. Not even he and Shazza were that stupid - they know how to maximise their CentreLink payments.
16. LAURIE'S GREATEST HITS: The new Susware DVD! Retired political guru Laurie Leaks Greatest Hits! His classic interviews with many politicians! Laurie's the one talking through his mouth.
17. CNN 22.8.17: Big Gazza Roidman reports that golfing great Greg Norman's viral nude swimming photo has inspired Rupert Foxdoch to start a pay-per-view Nude Golf channel.
18. SAME-SEX WATCH: Media Watch host Paul Nitpick talks to people about the same-sex marriage plebiscite, including Cory Bananas, Pauline Hatful and a colourful religious identity.
19. DONALD CALLS MAL: President Donald Dump tells Mal Talkbull that America will take our boatpeople refugees after all, because Donald thinks people who own boats must be rich.
20. ACTION HERO WAR: A worried caller asks talkback agony uncles Arnie and Sly if there'll be a war with North Korea. Sly hopes so because America needs things to make future movies about.
21. CORY INTERRUPTUS: Barking mad senator Cory Bananas tells his Labor Party enemies that same-sex marriage is a greater crime than murder or voting for the Greens.
22. CACTUS FOOTY SHOW: Big Gazza Roidman's guests on the Footy Show include Brendan Cesspit and Wayne Sphincter, as well as professional cheer squad leader Cheryl Goer, er, Gower.
23. DONALD v KIM: North Korea's Dear Leader Kim Jong Nong attacks President Donald Dump with a long range rocket carrying a whoopee cushion warhead.
24. MAL ON THE COUCH: A depressed Malcolm Talkbull visits a psychiatrist because he's just not feeling himself anymore. The shrink is happy to know that at least he's cured that problem.
NOTE: TRACKS ON THIS ALBUM MAY HAVE BEEN PREVIOUSLY BROADCAST AND/OR RELEASED.
COPYRIGHT: All tracks and material ©2017 Triffique Productions Pty Ltd. All rights reserved. All material downloaded is copyright. Unauthorised public performance, broadcasting on any medium (including. radio), hiring, lending, re-selling or copying of this recording is strictly prohibited. All rights reserved.
You'll get 1 file (48.9MB)
More products from doug_e