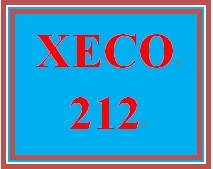 XECO 212 Week 2 Price Elasticity and Supply and Demand Short Answer Quiz
XECO 212 Entire Course Link 
https://uopcourses.com/category/xeco-212/
XECO 212 Week 2 Price Elasticity and Supply and Demand Short Answer Quiz
Complete
 the Price Elasticity and Supply and Demand Short Answer Quiz in Appendix B.
Post
 your completed chart as an attachment.
Click
 the Assignment Files tab to submit your assignment.
Appendix B
Price Elasticity and Supply & Demand  
Fill in the matrix below and describe how changes in price or quantity of the goods and services affect either supply or demand and the equilibrium price. Use the graphs from your book as a tool to help you answer questions about the changes in price and quantity 
EventMarket affected by eventShift in supply, demand, or both. Explain your answer.Change in equilibrium
Frozen orange crops in California
Orange juice
Supply (left)—Not as many available oranges to offer consumers.
Price will increase and quantity will decrease.
Hurricanes in the Gulf Coast     
Cost of cotton decreases     
Technology improves efficiency in pasta manufacturing     
1.    What do substitutes refer to in economics? Give an example of two substitutes. 
2.    Define "Price Elasticity of Demand." Give an example. 
3.    Determine if the demand for the following products is price elastic or price inelastic, and explain your answer. In your explanation, be sure to include how the necessity of a good and the availability of substitutes affect the price elasticity of demand in each of these specific cases: 
· Gasoline as a commodity 
· Gasoline sold at a local gasoline station 
· Hotel rooms for people planning a vacation 
· Hotel rooms for people on business to meet an important client 
4.     Define the Law of Demand and the Law of Supply.  Give an example for each. 
You'll get 1 file (47.0KB)