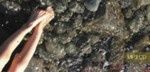 Naked Ladies short fiction (Janis Spence)
Narrated by the author
Listening Time: 27:05

"The Naked Ladies" is from On the Beach in Spanish Room, a collection of short stories by Janis Spence, available as an MP3 audio book CD and an MP3 digital download.

collection is available from our fiction section as both an MP3-CD and as a Digital Download.
You'll get a 13.9MB .MP3 file.
More products from Rattling Books audiobooks